India's new airport is not the 'largest in Asia' as claimed by ruling party
Politicians from India's ruling Bharatiya Janata Party (BJP) have shared videos and images claiming that a new airport being built outside the capital Delhi will become "Asia's largest airport". However, the claim is misleading; it will be far smaller in size than Saudi Arabia's King Fahd airport and is not predicted to see the same air traffic as some of China's airports. 
Indian government minister Anurag Thakur posted a video here alongside the claim on November 25, 2021.
He posted it on the same day Prime Minister Narendra Modi laid the foundation stone of Noida International Greenfield Airport in Jewar, around 48 miles from Delhi. 
The tweet's Hindi-language caption translates to English as: "As Asia's largest airport, Noida International Airport is also going to bring with it an investment of 350 billion Indian rupees [US$5billion]. This will provide employment to more than 100,000 people and will also accelerate the pace of development in the region."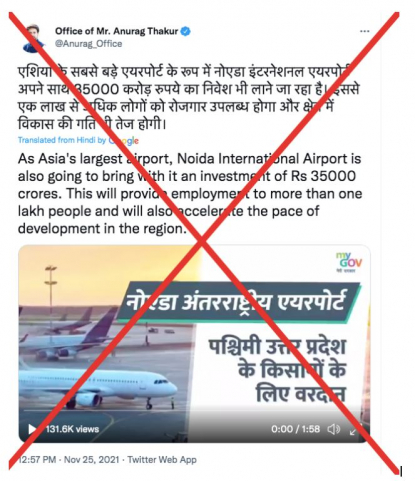 Screenshot of the misleading post taken on December 15, 2021 ( Uzair RIZVI)
A similar claim was shared here, here, and here on Twitter; and here and here on Facebook by several BJP politicians.
Indian news websites reported the same claim, for example, here, here, and here.
The claim, however, is misleading. Noida international airport is not set to become the largest in Asia in terms of area, air traffic, or passenger capacity.
Airport size
According to Guinness World Records, King Fahd International airport in Dammam, Saudi Arabia, is the largest airport in the world by area.
It covers 78,000 hectares or 780 square kilometres -- although the actual terminal building area is about 43 square kilometres; almost five percent of the total area.
Saudi Arabia is part of the continent of Asia. The kingdom's General Authority for Statistics describes it as: "at the furthermost part of southwestern Asia".
According to the government-approved masterplan, India's new airport will be built in four different phases on an area of 1334 hectares, approximately 13.34 square kilometres.
The official release by the Indian government here on November 25, 2021 also states that the airport will be built on an area of 1334 hectares.
Swiss airport real estate company Flughafen Zürich AG will build the airport and has an agreement to operate it for 40 years. 
"1334 hectares is the total area for all four phases covered within our 40-year concession period," Nicholas Schenk, chief development officer of Noida International Airport, told AFP in an email on December 17, 2021. 
Passenger capacity
The first phase of the airport will be completed by September 29, 2024, at which point it is set to serve around 12 million passengers annually.
This will rise to serve 70 million passengers annually by phase IV in 2060, according to the Indian government's masterplan.
According to a Techno-Economic Feasibility Report for the airport by consultancy company PricewaterhouseCoopers (PwC), the airport will have a maximum capacity of 77 million passengers annually.
However, there are other airports in Asia which have already served more than 77 million passengers annually.
2019 data from Dubai Civil Aviation Authority on passenger movement at Dubai International Airport pegs it at nearly 88 million.
Beijing International Airport in China served around 100 million passengers in 2019, according to Airports Council International (ACI), a global trade representative of the world's airport authorities.
Air traffic
The Indian government's masterplan states that the airport will handle around 96,400 air traffic movements -- landings and take-offs -- per year from 2024, which will increase to 489,700 annually by the fourth phase of the airport development.
Contrastingly, Beijing recorded 594,329 landings and take-offs, Shanghai recorded 511,846 and Guangzhou had 491,249, according to data from Airports Council International in 2019.
For the year 2020, which was affected by the pandemic, the data from ACI shows all three airports in United States with Atlanta recorded 548,016 landings and take-offs, Chicago recorded 538, 211 and Dallas had 514,702.
Government official Arun Vir Singh, chairman of the Yamuna Expressway Industrial Development Authority which has a stake of 12.5 percent of the airport, told AFP that there were plans to further extend the airport after 2060 to cover a possible 5,800 hectares, but that land acquisition was still "in progress".