Selfie of Nigerian businessman was taken at book launch weeks before his detention on graft charges
A selfie of Nigerian businessman Obi Cubana with a group of people, including uniformed men, has been widely shared online. The posts allege that it shows Cubana posing with officials of the Nigerian Economic and Financial Crimes Commission (EFCC) after his release from the anti-graft agency's custody. But the claim is false: the photo was taken weeks before Cubana was arrested over allegations of money laundering. The EFCC has also dismissed the claim as fake.
"'EFCC?' crew poses for quick photograph with billionaire socialite & businessman Obi Cubana (sic)," reads the caption on one of the Facebook posts published alongside the image.
It had already been shared more than 120 times barely four hours after it was published on November 5, 2021.
Screenshot taken on November 5, 2021, showing the false Facebook post
The photo was uploaded shortly after Legit NG published the same image on the social network with credit to Cubana on Instagram. The news medium is Nigeria's most visited domestic news site, according to Alexa website traffic rankings.
"After three nights in EFCC custody, Obi Cubana regains freedom," reads the caption, causing some online users to think that the image was actually taken in EFCC custody.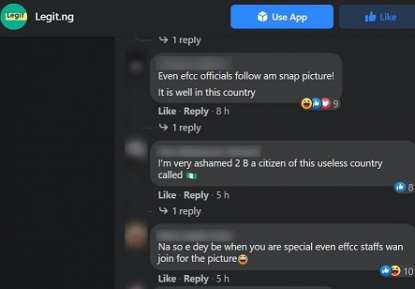 Screenshot taken on November 5, 2021, showing some of the comments on Legit's post
The EFCC arrested Cubana for alleged money laundering and tax fraud on November 1, 2021, less than four months after his mother's burial which became a major talking point in Nigeria.
But there is no evidence the EFCC officials posed with the business mogul after he regained freedom from the anti-graft custody on November 4.
Book launch photo
AFP Fact Check sifted through Cubana's Instagram page and found that the businessman uploaded the image on the social network on October 7, 2021 — more than three weeks before his detention.
"Beautiful faces/people we met today!" Cubana captioned the image, which shows him in a white outfit smiling at the camera. According to the post's location tag, it was taken at the Nigerian Army Resource Center IFPO Certification Training in Nigeria's capital Abuja.
 

 

View this post on Instagram

 
The location matches details of a report by Nigerian daily newspaper Vanguard about a book launch attended by Cubana and other dignitaries in Abuja.
In addition, Cubana also published a video clip showing him speaking at the event in the same outfit. 
"Had a book presentation/Launch this morning At Nigerian Army Resource Centre Abuja," the footage's caption reads. "Congratulations Col. C.O.Obasi on this beautiful piece."
 

 

View this post on Instagram

 
The EFCC also dismissed the claim that the photo shows Cubana posing with anti-graft officials as false.
"The caption is as fake as any fake news can ever be because, at no time during his ongoing investigation, period in custody or release did Obi Cubana pose for photographs with EFCC staff," EFCC spokesman Wilson Uwujaren told AFP Fact Check.
Uwujaren said the false claim could be traced to the social media account of Sabi Radio, "which first went to town with the fake news at 1:06 pm on 5 November, 2021. Sabiradio's watermark is telltale on the photograph."
Sabi Radio's post, archived here, has since been taken offline.
However, using social media monitoring tool CrowdTangle, AFP Fact Check found that the claim had circulated even earlier than this post.
For example, this tweet published at 11:52 am local time features the same image and claim.
Screenshot taken on November 5, 2021, showing the false tweet
The EFCC said it would "not hesitate to take urgent steps to address this and other fake news".