This photo does not show 'Philippines VP Leni Robredo with her first husband'
An image has been shared repeatedly in Facebook posts that claim it shows Philippine Vice President Leni Robredo with her "secret first husband" at their wedding. The claim circulated online after Robredo -- arch-rival of President Rodrigo Duterte -- announced she will run for the top job in 2022. But the image has been shared in a false context: it does not show Robredo. A Filipino couple living in the Philippine province of Pampanga told AFP their photo had been misused. Robredo has dismissed false reports circulating since 2016 that she had a "secret first wedding".
The image (left) was shared in a Facebook post on October 26, 2021.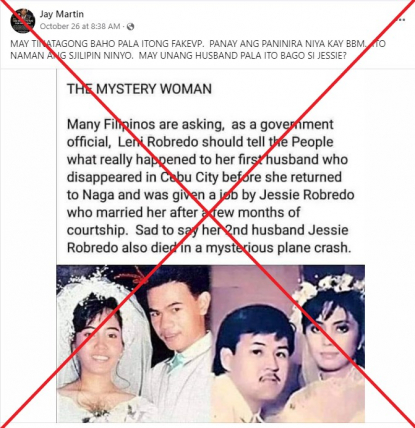 A screenshot of the misleading post taken on November 2, 2021
It was published alongside a genuine image (right) of Robredo at her wedding to her late husband Jesse. It can be seen here in a 2016 report by the Philippines Star newspaper.
The text superimposed above the images in the misleading post reads: "Leni Robredo should tell the People what really happened to her first husband who disappeared in Cebu City before she returned to Naga and was given a job by Jessie Robredo [sic] who married her after a few months of courtship.
"Sad to say her 2nd husband Jessie Robredo [sic] also died in a mysterious plane crash".
Robredo's husband Jesse -- a former interior secretary -- died in a plane crash in 2012. Investigators found the pilot lacked training and the aircraft was not properly maintained.
The post's Tagalog-language caption translates to English in part as: "THIS FAKEVP IS HIDING A SECRET".
Robredo's detractors label her "fake VP" in reference to a poll fraud case filed by her losing opponent Ferdinand Marcos Jr. The Supreme Court threw out the case in 2021 for "lack of merit".
The image circulated online after Robredo announced she will run for president in 2022.
The images were shared alongside a similar claim on Facebook here, here and here.
Comments on the posts suggest some users believed the claim.
"You keep talking in your interviews like you're so clean and great, now explain that you're not an immoral person. It's so shocking," one wrote.
But the first image has been shared in a false context.
Different wedding
Keyword searches on Facebook found the first wedding photo was shared on June 16, 2021 by Facebook user Jennet Canlas.
The photo is captioned: "Happy 30th wedding Anniversay,Love of my life.thank you, for ur loving and caring".
Screenshot comparison of the image in the misleading posts (L) and the photo Canlas shared on Facebook (R).
Jennet's profile indicates her husband's name is Daniel Canlas.
Daniel told AFP the posts had shared his wedding photo in a false context.
"It's me and my wife. It's our wedding photo that was taken on June 16, 1991," he told AFP on October 31. "I wish people would respect other people's privacy."
Old rumour
The misleading claim about Robredo's "secret first husband" has circulated online since 2016 when she was elected vice president.
She denied the claim in a video posted on her Facebook on May 24, 2018. 
The video -- titled "VP Leni fights back vs. fake news (Part 1)" -- included the wedding photo of Daniel and Jennet Canlas. 
"Those in the photo were Daniel and Jennet," Robredo says at video's one-minute 16-second mark. "It's true that I got married twice but to the same person. I had a civil and a church wedding with Jesse."
Similar misleading posts were also debunked by Philippine website Memebuster after they circulated in 2016.