Old video of English football club's tribute to Thai king shared as recent
A video is circulating in Facebook posts claiming it shows players from English football club Sheffield Wednesday paying tribute to Thailand's late King Bhumibol Adulyadej on the fifth anniversary of his death on October 13, 2021. The posts are misleading; the footage is from 2016.
The video was shared here on Facebook on October 15. 
"What a world phenomenon, I have goosebumps. On October 13, 2021, football players in England paid tribute to our late Rama IX on the anniversary of his death before starting the game," the Thai-language caption reads.
The video shows players, referees and spectators standing in silence while the Thai royal anthem is played. A photo of the late King Bhumibol Adulyadej, also known as Rama IX,is shown on a screen in the stadium at the video's 01:22 mark.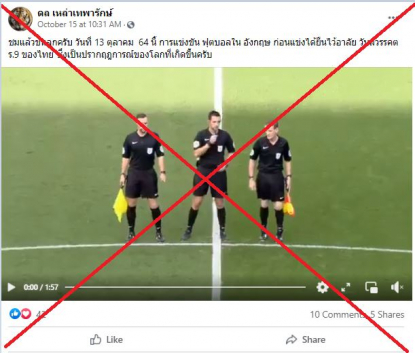 Screenshot of the misleading post, captured on October 19, 2021
The video was also shared in similar Facebook posts here, here and here. 
However, the posts are misleading; the video is from 2016. 
A reverse image search on Google found the original clip posted on October 23, 2016 on Sheffield Wednesday Football Club's official YouTube channel.
The video is titled, "Sheffield Wednesday's tribute to the King of Thailand".
The video was posted shortly after Bhumibol's death on October 13, 2016 aged 88, ending a seven-decade reign.
Below is a screenshot comparison of the video shared in misleading posts (left) and the original video (right).
Screenshot comparison of the misleading video (L) and the original clip on YouTube (R)
Sheffield Wednesday is owned by Thai businessman Dejphon Chansiri. 
On October 22, 2016, Dejphon paid tribute to "the impeccable way in which [the players] observed the tribute to King Bhumibol Aduladej". The video was also shared in the statement. 
"The players and the staff wore black armbands during our game against Huddersfield last Sunday, once more at Cardiff on Wednesday and today against Queens Park Rangers, and will continue to do so for the remainder of a 30-period of mourning since the king passed away. The flags at our stadium will also remain at half-mast for the same period," he said.
Thailand designated October 13 as "the country's important day" and a national public holiday to mark the king's death.