Wrong suspect's photo used in posts about sectarian violence in Bangladesh
A photo of a man was shared in multiple Facebook posts claiming he was arrested for his alleged role in disrespecting the Koran at a religious event in Cumilla, a southern district of Bangladesh, on October 13, 2021. The claim is false: police said the man was wrongly identified online as a suspect in the case. He was in fact arrested over alleged vandalism at a temple in the southern district of Chattagram on October 11, a police spokesman told AFP.
The image was shared here on Facebook on October 14, 2021.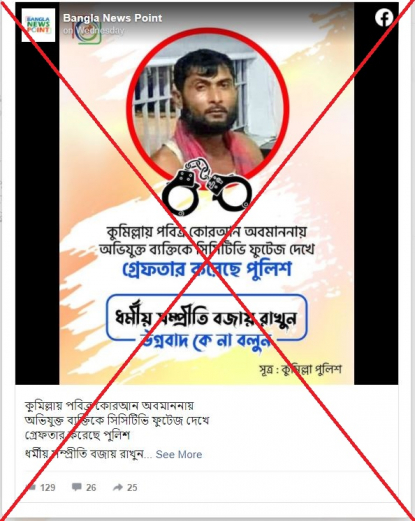 The post's Bengali-language caption translates to English as: "Police arrested the man accused of disrespecting the holy Koran in Cumilla after analysing CCTV footage".
Bangladesh witnessed a wave of violence targeting religious minorities after footage emerged on social media of a Koran being placed on the lap of an idol during a Hindu festival in Cumilla district on October 13.
The photo has been shared here, here, here and here on Facebook alongside a similar claim.
However, the man pictured in the misleading posts has been wrongly identified online as a suspect in the case, according to local police.
A combination of keyword and reverse image search found the photo was originally posted online on October 11, 2021 -- two days before the alleged incident in Cumilla.
On October 11, Chattagram Metropolitan Police posted photos of three men -- including the man pictured in the misleading posts -- in an update about a separate case in the southern district of Chattagram.
It reads: "Three accused were arrested and placed before the court for their involvement in vandalising a hand of a Durga idol by throwing pomelo on it at Sri Shmashaneshwari Shib Bigraha Temple in Shib Bari".
Below is a screenshot comparison of the misleading post (L) and the post on the Chattagram Metropolitan Police's Facebook page (R):
The arrests following the alleged vandalism at Chattagram temple were also reported here and here by mainstream media outlets.
Officer in-Charge of Kotwali police station Nezam Uddin told AFP that the man seen in the misleading posts was arrested along with two others for vandalism in a Chattagram temple.