Dangerous online posts claiming coffee-lemon cocktail helps weight loss circulate in Africa
Numerous posts with claims that drinking a mixture of coffee and lemon is effective for losing weight have been circulating on social media across Africa. However, the claim is false: medical experts told AFP Fact Check that there is no scientific evidence that the mixture could facilitate weight loss.
The purported weight-loss concoction went viral in recent months on TikTok, where internet users have been hailing a mixture of the two ingredients as a "miracle cure" for getting rid of body fat.
AFP Fact Check searched the hashtag #coffeeandlemon and found it has racked up nearly 18 million views on TikTok. The hashtag accompanies posts from around the world testifying to the diet's supposed efficacy.
The tonic is usually prepared by mixing coffee and lemon into hot water, according to an English TikTok user, who explains that she drinks it twice a day for results.
Screenshot taken on October 8, 2021, showing the hashtag on TikTok
Other internet users shared photos of weight scales as evidence of their fat loss.
The TikTok trend has filtered onto other social media platforms in Africa, where there are now multiple groups promoting the diet. 
Some of the groups have gained over 30,000 members in the weeks since they were created in August 2021, as seen here in Nigeria and South Africa.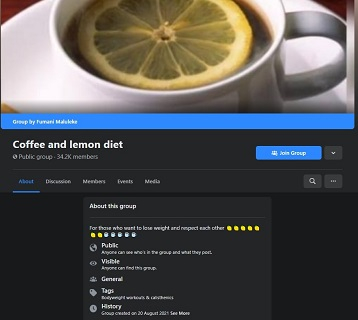 Screenshot taken on October 8, 2021, showing one of the Facebook groups
There are also online articles and YouTube videos promoting the dangerous trend. More than 500,000 people have viewed the claim on this YouTube page, and a thread about the concoction was created on Nairaland, Nigeria's most visited domestic social network.
Although several studies have shown that coffee and lemon have individual health benefits, there is no scientific evidence that combining the two ingredients will help with weight loss, according to medical and nutritional experts contacted by AFP Fact Check.
Experts dismiss claim
"Coffee, be it hot or cold, has never provoked weight loss," Pierre Dechelotte, president of the French-speaking Society for Clinical and Metabolic Nutrition (SFNCM), told AFP Fact Check on October 4, 2021.
"An excessive coffee consumption could cause insomnia and even cardiac issues. Lemon contains a lot of vitamin C and is an antioxidant, but it never has led to weight loss, either," he said.
Dechelotte explained that mixing the two ingredients in a drink could be "aggressive for the mucosa" and lead to "digestive disorders as well as significantly stave off hunger".
"Doing this is like playing Russian roulette with your nutrition," he added.
Dr. Folayan Waheed, a deputy director of public health in Nigeria's southern Ondo state, said the best way to achieve healthy weight loss is through diet and regular exercise.
"For now, no study has been done to validate the effectiveness of such a mixture. So many of such claims fly on a daily basis on social media."
When asked about the seemingly impressive weight-loss results filmed and published by people who have followed this diet on social media, Béatrice Dubern, a pediatrician-nutritionist at the Armand-Trousseau hospital in Paris, attributed the drop in weight to calorie restriction. 
"If this mix replaces a healthy diet, it restricts the number of calories and, therefore, will lead to weight loss," Dubern explained.
A cup of Geisha Natural coffee ( AFP / Luis ACOSTA)
Many online users claim that they only eat once a day to "optimise" the results. But Dubern warned that this could "possibly be a rapid loss of lean mass, which is dangerous and leads to a risk of malnutrition".
Cécile Bétry, who is a nutritionist doctor at Université Grenoble Alpes in France, agrees with Dubern, arguing that in this case, the body loses "muscle and not fat". Muscles allow  you to "stay healthy", Dubern notes.
In 2011, the French food safety agency (ANSES) published a scientific report explaining that diets undertaken without recommendation or monitoring by a specialist can be dangerous to one's health.
"Seeking to lose weight without formal medical indication bears risks, especially when it involves unbalanced eating habits with limited variety," the study concluded. "Undertaking a weight-loss programme therefore requires specialised medical supervision."
Overweight and obesity problem
The World Health Organization (WHO) estimates that about 39 percent of the world's adult population was overweight in 2016, while another 13 percent were obese. The global health authority classifies the two medical conditions as "abnormal or excessive fat accumulation that may impair health", including contributing to cardiovascular diseases.
In Nigeria, Africa's most populous country, a 2020 study estimated that there were 21 million overweight and 12 million obese people in the Nigerian population aged 15  years or more, accounting for an "age-adjusted prevalence" of 20.3 percent and 11.6 percent, respectively.
Medical experts recommend increased consumption of fruit and vegetables, as well as engaging in regular physical activity — at least two and a half hours per week for adults, according to the WHO.