Joke reports of Filipino actress signing deal with state media mislead social media users
Facebook posts circulating in the Philippines claim popular actress Toni Gonzaga joined a state-run TV network after she came under fire for a controversial interview with the son of late dictator Ferdinand Marcos. However, the reports -- which appeared to mislead social media users -- are inaccurate and originated on a satirical news page.
"Toni Gonzaga signs contract with PTV-4," reads a graphic shared on Facebook on September 19.
The graphic shows a photo of Filipino actress Toni Gonzaga. In the background, the logo of the government's flagship television network PTV-4 can be seen.
Text below the graphic states it was published by "Philippine Char".
"A very good decision," the Facebook post reads.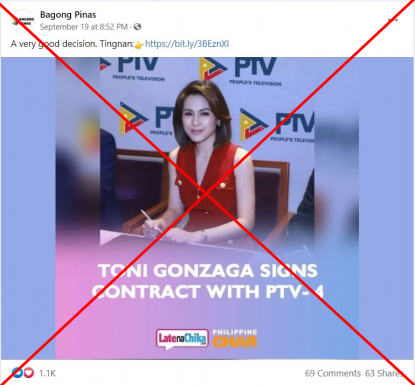 Screenshot of misleading post taken on September 23, 2021
The post circulated after Gonzaga drew flak for interviewing Ferdinand "Bongbong" Marcos Jr. -- the son and namesake of the late Philippine dictator who oversaw widespread human rights abuses during his presidency from 1965 until 1986. 
Human rights advocates in the Philippines slammed Gonzaga's interview. The Martial Law Museum said that it "contributed to the Marcos family's attempts to whitewash their human rights violations and its proven historical record". 
Similar Facebook posts also shared the reports here, here and here.
Some social media users appeared to believe the reports were genuine.
"Good decision, Toni G.", one person commented.
"Bravo Toni you are a good journalist not biased, you go on the correct side not the bad side," another wrote.
However, the claim in fact originated on a satirical Facebook page.
A reverse image search found the graphic was originally posted on September 15 by a Facebook page called "Philippine Char".
In its "About" section, "Philippine Char" states the page is "100% satire" and "not in anyway connected with The Philippine Star and all of its affiliates."
The page appears to parody The Philippine Star newspaper.
"Char" is a colloquial expression in the Philippines that means "just kidding".
Further reverse image searches found the photo of Gonzaga used in the satirical graphic was digitally altered. 
The original photo was posted on November 15, 2018 at the corporate Twitter account of Philippine broadcaster ABS-CBN, where Gonzaga is a talent.
The photo was captioned in part, "Actress and TV host Toni Gonzaga also renewed her contract with ABS-CBN today, November 15."
The ABS-CBN logo on the background was altered and replaced with the PTV-4 logo.
Below is a screenshot comparison of the photo in the satirical graphic (L) and the original photo (R).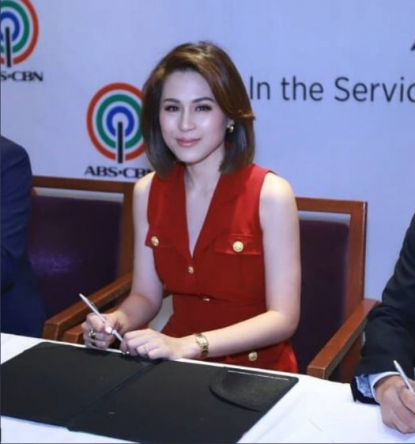 AFP found no credible reports that Gonzaga joined PTV-4.
The misleading posts have also been debunked by Philippine fact-checking organisation VERA Files here.