Canada TV graphic sparks false claims of stolen seats
Facebook posts claim seats won by the People's Party of Canada (PPC) in the 2021 federal election were stolen, citing images of a column marked "other" that was removed from a graphic on television. But the company that distributes the TV program said the deleted column did not show PPC seats, and instead represented districts with unreported results displayed on screen due to a computer error.
"OTHER WAS PPC SEATS !!!!! ALL GONE NOW," says a September 20, 2021 Facebook post that includes multiple screenshots of the CityNews live broadcast from election night.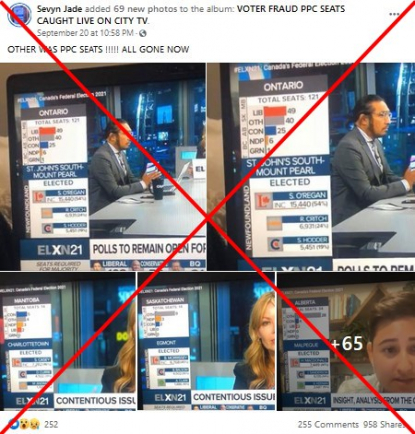 Screenshot of a Facebook post taken on September 22, 2021
Another post included a video of the same live broadcast along with the text: "REAL TIME WATCH THE STEAL #ppc #alberta #ontario #britishcolumbia #saskatchewan #manitoba #yukon all had PPC in FIRST then see switch."
"The steal" was a term used by Donald Trump and his supporters to falsely claim that fraud denied him victory in the 2020 US presidential election.
Justin Trudeau was re-elected as prime minister on September 20, 2021, after calling a snap election the previous month. He had hoped, but ultimately failed, to win a majority in the House of Commons.
The PPC, a party created in 2018 by Maxime Bernier, enjoyed a surge in popularity this election cycle after campaigning against restrictions put in place to curb the spread of Covid-19.
The party failed to win a single seat in 2021, and claims that its seats fraudulently vanished on air are false.
Charmaine Khan, a spokeswoman for Rogers Sports & Media, the broadcasting company that distributes CityNews, told AFP that "at no point during our coverage was the PPC referred to as 'Other' on screen."
The PPC had its own tally, as shown in the screenshot below: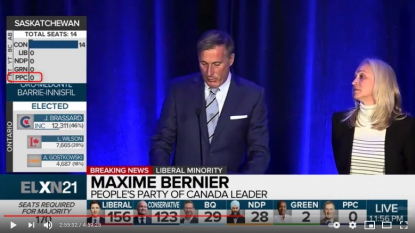 Screenshot taken on September 22, 2021 of a CityNews election night broadcast
"There was a computer error with the graphics featured during our broadcast for a portion of the evening where ridings that had yet to report any results were shown on screen as 'Other,'" Khan said.
This category "disappeared on screen as results came in from each riding," she explained.
AFP Fact Check examined other inaccurate claims about the 2021 Canadian election here.