Posts mislead on nationality of group arrested in Bangladesh over rail project machinery theft
Facebook posts shared thousands of times claim that 11 people arrested in Bangladesh for allegedly stealing machinery from a major rail project in Dhaka were all Indian nationals. The claim is misleading; the paramilitary group that detained the gang over the alleged theft said they were all Bangladeshi nationals.
The claim was posted here on Facebook on September 15. It has been shared more than 5,000 times.
The post claims that the Rapid Action Battalion (RAB) -- a paramilitary force in Bangladesh -- detained 11 Indians over the theft of machinery from the Dhaka Metro Rail project.
The theft was reported here by Bangladesh's Daily Star newspaper on September 13.
The post's Bengali-language caption translates to English as: "Machinery from the Metro Rail project were stolen. RAB (Rapid Action Battalion) arrested 11 Indian citizens".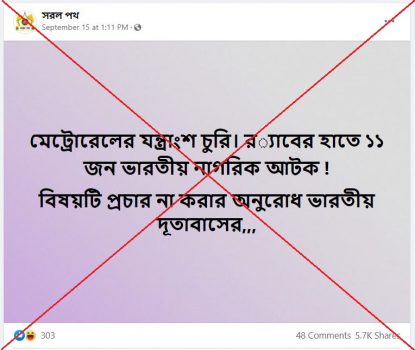 Screenshot of the misleading claim shared on Facebook, taken on September 23, 2021
Bangladesh's first-ever metro rail service in the capital Dhaka made its trial run on August 29.
The project's commercial operation is due to commence by late 2022, Bangladesh's Road Transport Minister said in August, the Dhaka Tribune reported.
The claim was also posted here, here and here on Facebook.
However, the posts are misleading.
RAB spokesperson Sajedul Islam said that those arrested over the incident were all Bangladeshi nationals.
"If anyone claims any of those men are Indian citizens; that is simply fake news. We have arrested them from Dhaka and they all are Bangladeshis," he told AFP.
AFP could not locate any credible Bangladeshi media reports -- such as here and here -- that stated the detained gang were Indian citizens.