Canada did not adopt Chinese-style social credit system
Social media posts claim Canada will implement a corporate social credit system similar to that used in China. But Ottawa says the webpage cited as evidence in the posts is meant to inform companies about regulations in China, and does not relate to a Canadian policy.
"Canada Adopts Chinese Social Credit System," says a September 15, 2021 Instagram post that includes a video claiming Canada is "officially rolling out the Chinese social credit score for Canadian businesses."
Screenshot of an Instagram post taken on September 20, 2021
The video -- which refers to a government of Canada's webpage titled "China's Corporate Social Credit System: How businesses can prepare" -- was also posted on US conspiracy theorist Alex Jones' Infowars website on September 12.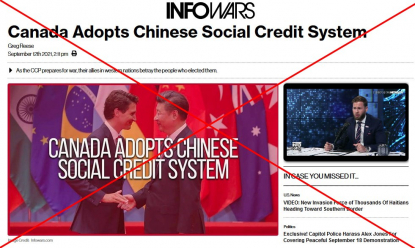 Screenshot taken on September 20, 2021 shows the infowars.com website
Other posts making similar claims with screenshots of the same government webpage appeared on Facebook here, here and here.
The claims spread online just before Canada's 2021 federal election, ahead of which Justin Trudeau's Liberals faced criticism over relations with Beijing, including from the Conservative party, which has repeatedly accused the prime minister of being weak on China.
But the webpage cited in the social media posts describes the system used by China to track and record data on people and companies, and does not relate to Canadian policy.
"The information in the referenced webpage is intended to raise awareness amongst Canadian companies about a specific Chinese government regulatory program -- Corporate Social Credit System that only applies to companies doing business in China -- so that Canadian companies can consider compliance or risk-mitigation measures," Lama Khodr, a spokeswoman for Global Affairs Canada, told AFP.
"The Trade Commissioner Service offers services to Canadian companies seeking to do business abroad. Part of these services includes raising awareness about host country regulations that could affect Canadian operations there," she said.

Screenshot taken on September 20, 2021 shows the tradecommissioner.gc.ca website
The webpage states that "to be ready for the full implementation of the Corporate Social Credit System (CSCS), businesses operating or wanting to operate in China should prepare thoroughly to manage related risks."
It does not mention such a system being put in place in Canada, nor is it recent -- a note at the end of the page says it was last modified in April 2020.
AFP Fact Check has debunked other inaccurate claims related to Canada here.