Video does not show Philippine senator 'apologising' to President Duterte after public spat
A video has been viewed more than one hundred thousand times in Facebook posts that claim it shows Philippine Senator Richard Gordon "apologising" to President Rodrigo Duterte after a public quarrel. But the posts are misleading. The video actually shows Gordon apologising to another senator after interrupting him during a legislative hearing.
The video -- which shows a hearing presided by Senator Richard Gordon -- was shared on YouTube on September 18, 2021.
It has been viewed more than 100,000 times. 
The video's Tagalog-language text overlay translates to English as: "BREAKING NEWS: GORDON FOLDED AND APOLOGISED TO THE PRESIDENT!"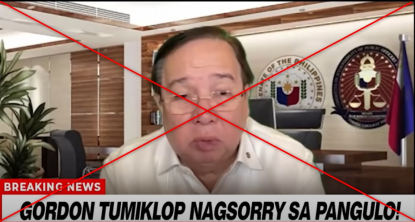 Screenshot of the misleading post taken on September 21, 2021
The video circulated online as Gordon and Duterte clashed over allegations of corruption in the government's purchase of medical items during the pandemic.
As of September 22, 2021, Gordon is chair of the committee that is probing the procurement.
The video was also shared on Facebook here and here alongside a similar claim.
Comments on these posts indicate some people were misled.
"After ruining the President's reputation, you're just going to say sorry? There should be a punishment…" one commented.
"He should have done that from the start. He should have been that respectful and polite towards the President", another wrote.
However, the posts are misleading.
Keyword searches found the video corresponds to a portion of this longer video streamed live on the Senate website on September 17, 2021.
It shows Gordon presiding over the corruption probe.
AFP reviewed the video and found it does not show Gordon apologising to Duterte, as the posts alleged.
In fact, it shows him saying "sorry" to Senator Christopher Go -- an ally of the president -- after he interrupted him during the probe.
"I'm sorry, Mr. Go. You have consumed your time," Gordon can be heard telling Go at the video's two-hour 34-minute and 28-second mark.
Earlier in the video, Gordon sarcastically tells Duterte: "I am really sorry for you, Mr. President... You are a cheap politician, Mr. President. Cheap politician. As cheap as they come. I'm sorry."
The remarks can be heard at the video's one-hour eight-minute and four-second mark.
Below is a screenshot comparison of the video in the misleading posts (L) and its corresponding frame from the original video (R):
Gordon's team denied he apologised to Duterte during the hearing.
"The posts are missing context," Ferdie Maglalang, spokesman for the senator, told AFP on September 21.
"Sadly, they are being reported as legitimate news when obviously they're not".