Posts falsely claim former US attorney general has been 'arrested for treason'
Multiple posts circulating on social media in South Korea claim former US Attorney General Janet Reno was arrested for suspected treason in early 2021. The claim is false: Reno passed away in November 2016. There are no records or credible reports that she was ever arrested during her lifetime. 
The claim was shared here on Facebook on September 11, 2021.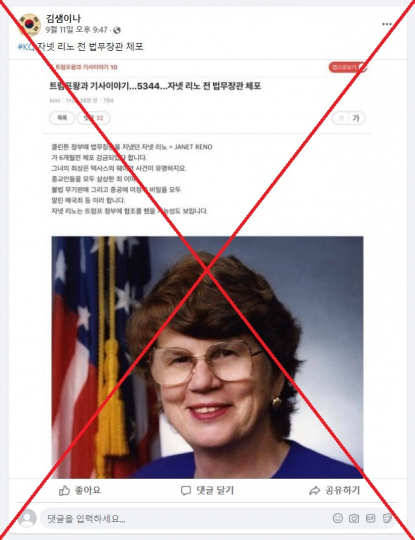 Screenshot of the misleading claim shared on Facebook. Captured September 18, 2021.
"Janet Reno, who served as attorney general during the Clinton administration, was arrested and jailed six months ago," the Korean-language claim reads."
"The Texas Waco case is a famous crime of hers. [Her crimes] are that she killed all religious believers, sold weapons illegally, and conducted treason by passing on US government secrets to China".
A similar claim was shared here and here on Daum Cafe; and here, here and here on Naver Blog. 
The claim, however, is false. 
Reno -- who served as President Bill Clinton's attorney general from 1993 to 2001 -- died on November 6, 2016. She was the first female attorney general to serve in the US. 
Her biography was published on the US Justice Department's website.
Clinton spoke at a memorial for Reno after she died, as seen in this video posted by the South Florida Sun Sentinel. 
Obituaries for Reno published by major international newspapers can be read here, here and here.
Keyword searches found no credible media reports or statements to support the claim that Reno was arrested during her lifetime.