Posts mislead on state of Philippines' mothballed nuclear power plant
A video has been viewed hundreds of thousands of times in multiple Facebook posts that show a Philippine senator claiming in a 2020 interview that all of the equipment in the country's mothballed nuclear power plant has been "sold" by previous governments. But the claim is misleading: the head of the agency tasked to maintain the facility told AFP the equipment has not been sold. A video report by Al Jazeera published in January 2021 showed the plant was not empty.
The video was shared on Facebook on July 23, 2021. It has been viewed more than 189,000 times.
The text overlaid on the video states in part: "THE BATAAN NUCLEAR PLANT IS ALREADY EMPTY.."
The Bataan Nuclear Power Plant -- the first and only nuclear power plant in the Philippines -- was completed in the 1980s but never launched due to corruption issues and safety concerns.
Senator Imee Marcos is shown in the video saying: "The building is there. The building is intact.
"But past administrations sold the equipment, including the reactor, processor and other parts... It's an empty shell."
The senator's father -- the late dictator Ferdinand E. Marcos -- originally announced plans to build the Bataan Nuclear Power Plant in 1973.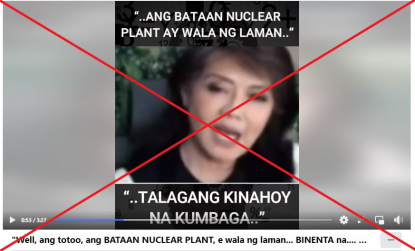 Screenshot of the misleading post taken on September 15, 2021
The post circulated online after President Rodrigo Duterte ordered in 2020 to create a body that will study the possibility of adopting nuclear energy in the Philippines.
Comments on the posts show users believed all the plant's equipment had been sold.
"They should investigate those who are in charge! Those who sold the equipment should be jailed," one commenter wrote.
"So shocking that IT'S EMPTY NOW," another user commented.
An identical video alongside a similar claim was also posted on Facebook here and on TikTok here. Photos with the same claim were also shared on Facebook here, here and here.
However, these posts are misleading.
Keyword searches showed Marcos originally made the statement in an interview in 2020 here.
Below is a screenshot comparison of the video in the misleading posts (L) and its corresponding frame from the original video (R):
Screenshot comparison
In response to the misleading posts, the head of the Philippine Nuclear Research Institute, the agency assigned to maintain the nuclear facility said it was "not true" that all the plant's equipment had been sold. 
"It's not true. I was just there yesterday," PNRI Director Carlo Arcilla told AFP on September 15, 2021.
"Only the fuel was sold. [The] majority of the equipment is there. Naturally, some pieces suffered deterioration as time went by," he said.
Arcilla also denied the claim in 2020 in an interview here.
Keyword searches also found this video report by news channel Al Jazeera in 2021 that shows equipment inside the plant, including a nuclear reactor and a turbine generator.