This photo of a Hindu idol has circulated in reports about a temple restoration in south India
A photo has been shared thousands of times on Facebook and Twitter alongside a claim that it shows a Hindu idol found buried under a mosque. However, the claim is false. The photo has circulated in news reports about an idol that was dug up during reconstruction around a Hindu temple in the southern Indian state of Tamil Nadu.
"This is the truth of every Mazaar and Mosque! Hindutva," reads a Hindi-language Facebook post from September 5 shared more than 4,000 times.
A mazar is a mausoleum or shrine in the Muslim world, while "Hindutva" refers to hegemony for India's majority Hindus. 
The photo shows a statue of Hindu deity Nandi -- the sacred bull steed of Shiva -- in a pit in the ground.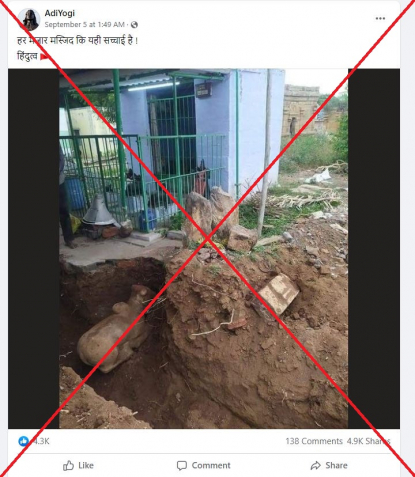 Screenshot of the misleading Facebook post, taken on September 14, 2021
India's Hindu-Muslim divide has long fuelled tensions in the officially secular country where some 80 percent of the population identify as Hindu. 
In 1992, the destruction of a mosque in Uttar Pradesh -- that Hindus argued was constructed over a Hindu temple -- triggered deadly riots in which around 2,000 people, most of them Muslims, were killed.
Hindus say the site is the birthplace of Lord Ram -- one of their most revered deities.
The photo was shared alongside a similar claim in Facebook here and here; and on Twitter here and here.
However, the claim is false.
The photo of the Hindu idol has circulated in news reports about a statue found during reconstruction works at a temple in the Namakkal district of Tamil Nadu, a state in southern India. 
Reverse image searches and keyword searches found photos of an identical statue published in a Tamil-language tweet by news outlet Dinamalar on September 2. 
"Discovery of a 1000-year-old Nandi statue," the tweet reads.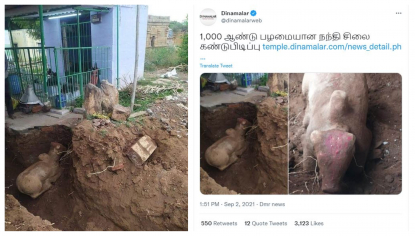 Screenshot comparison between the photo in the misleading post (L) and the Dinamalar tweet (R)
The tweet includes a link to a news report on Dinamalar's website from September 2, 2021.
"During reconstruction work of a temple near Mohanur, a 1,000-year-old Nandi statue of the Pandya king was found," it reads.
"Ariyur village, near Mohanur in the Namakkal district, has a 1,000-year-old Pandeeswarar temple built during the reign of a king. Reconstruction work is underway on the nearby Sellandiamman Temple."
Mohanur is a town in the Namakkal district of the Indian state of Tamil Nadu.
This article published by Tamil-language news site Vikatan on September 7 also reports that a Nandi idol was found during the restoration of a temple in Namakkal district.
The misleading posts were also debunked by local news and fact-checking outlets, including The Quint.
AFP has previously debunked claims that a statue of Hindu goddess Kali was destroyed in an arson attack by jihadists.