Nigerian state oil firm made profit in 2017, not for the first time in 2020 as president claimed
Nigerian President Muhammadu Buhari claimed that the state-owned energy company, the Nigerian National Petroleum Corporation (NNPC), recorded a profit in 2020 for the first time since its establishment 44 years ago. However, the claim is false: AFP Fact Check reviewed the oil corporation's audited financial records and found that it generated profit, albeit restated, in 2017.
Buhari made the claim on his official Facebook page on August 26, 2021, while announcing that the NNPC had declared a net profit of 287 billion naira ($697 million) for the 2020 financial year. His post has been shared more than 2,100 times.
Screenshot taken on August 30, showing the false Facebook post
Buhari specified that the profit achievement was a first for the NNPC.
"The NNPC losses were reduced from N803 Billion ($1.9 billion) in year 2018 to N1.7 Billion ($4.1 million) in year 2019 and the eventual declaration of Net Profit in Year 2020 for the first time in its 44-year history," the post further reads.
Net profit is the remaining portion of a company's revenue after accounting for all expenses.
Similarly, Nigeria's Minister of State for Petroleum Resources, Timipre Sylva, also shared the same claim, which has since been widely repeated by major local and international media organisations — particularly following a statement by presidential adviser Femi Adesina.
In addition, several prominent presidential aides, including Lauretta Onochie, Adesina and Buhari Sallau, have amplified the claim on social media. 
Evidence contradicts Buhari
Although the 2020 financial records for the NNPC are yet to be released to the public, AFP Fact Check found the oil firm's audited statements for the previous year on its website.  
A summary table on page 121 of these financial statements shows profits and losses from 2015 to 2019.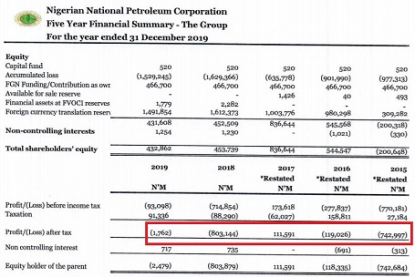 Screenshot taken on August 30, showing NNPC's 5-year financial summary and the restated profit in 2017
The summary reveals that the company made a profit of 111 billion naira ($269 million) in 2017 after reporting losses in the previous two years. The 2017 profit was restated, as were the figures for 2016 and 2015.
Restatement is the revision of previously issued financial statements, according to Gbolahan Ologunro, a senior analyst at Lagos-based investment firm Cordros Securities.
"It is a common practice for companies to restate their accounts, which arises when they make adjustments in the previous year's accounts and reflect the changes in the comparative year of the current financial period," Ologunro told AFP Fact Check.
Nigeria is Africa's largest oil exporter and the transparency of NNPC's operations has repeatedly been questioned after failure to publicly disclose its accounts until last year.
AFP Fact Check made repeated attempts to clarify Buhari's profit claims in his announcement. 
Adesina did not answer calls or respond to email and text messages. Buhari's media aide, Garba Shehu, referred AFP Fact Check to NNPC spokesperson Garba Deen Muhammad, who also failed to return our calls or reply to emails and texts.
We will update this fact check should a response be forthcoming.