Posts mislead on vaccination centre closures in Romania
A video has been viewed thousands of times on YouTube and Facebook in August 2021 alongside a claim that all Covid-19 vaccination centres were set to be closed in Romania due to declining demand for vaccines. The claim is misleading: Romanian health authorities said while some Covid-19 vaccination centres had been temporarily wound down, vaccines were still available at centres across the country. 
The claim was shared in this YouTube video posted on August 25, 2021.
It has been viewed more than 5,000 times.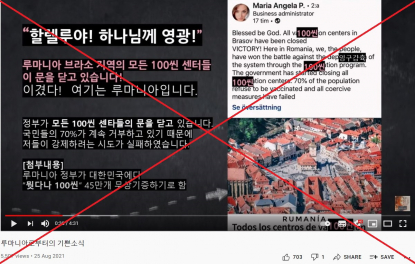 Screenshot of the misleading Facebook post, taken on September 1, 2021. ( AFP)
The Korean-language narration in the video translates in part as: "I am happy to let you know that vaccination centres in Romania are closing down. 
"The [Romanian] government is shutting down ALL vaccination centres. It's because 70 per cent of its citizens are against vaccination. Government's attempt to force vaccination is failing".
The claim cites a report published by Indian newspaper The Times of India on July 7, 2021.
It was titled: "Romania closes 117 Covid vaccination centres".
The report reads in part: "Declining demand for coronavirus vaccinations in Romania has prompted authorities to close 117 vaccination centres and to reduce the schedule at 371 others, health officials have said".
The YouTube video has also been shared on Facebook here, here and here alongside a similar claim. 
However, the claim is misleading. 
An official at the communication group of the National Coordinating Committee for Activities on Vaccination against Covid-19 (CNCAV) dismissed the claim.
"The centres have not been closed permanently. The activity was temporarily stopped and will be resumed with the increase of Romanians' adherence to vaccination against Covid-19," the official told AFP on September 3, 2021.
As of September 3, 2021, Romania had 581 vaccination centres and 837 vaccination offices operating nationally, according to the CNCAV.
Vaccination centre locations and the number of available jabs were published here on the CNCAV's official website.
Misrepresented report
AFP has found no credible reports or official statements to support the claim that Romania was shutting down all of its vaccination centres in August 2021. 
The report from The Times of India cited by the misleading posts did not mention anything about the purported plan.
The report quoted national vaccination committee chief Valeriu Gheorghita as saying that the closed vaccine centres could be reopened if there was new demand for vaccines.