Old video misused in posts about Thai police officer 'apologising for man's death in custody'
A video has been viewed thousands of times on Facebook and YouTube in August 2021 alongside a claim it shows a Thai police officer apologising to a drug suspect's parents after he died in custody. The claim is misleading: the video has circulated in reports since January 2021 about the same police officer apologising to a couple about an unrelated case involving a missing car.
The video was shared here on Facebook on August 24, 2021. It has been viewed more than 2,000 times.
The post claims the video shows a Thai police officer, Thitisan Utthanaphon, apologising to the parents of a drug suspect who died in custody in August 2021. 
Footage of the man's death went viral online in Thailand.
Thitisan -- whose nickname is "Joe Ferrari" because of his collection of expensive cars -- is accused of torturing and suffocating the man to death.
The video's Thai-language caption translates to English as: "Look at how evil he is. He killed their son with his bare hands but still has the decency to apologise to his parents as if he didn't do anything wrong. #JoeFerrari".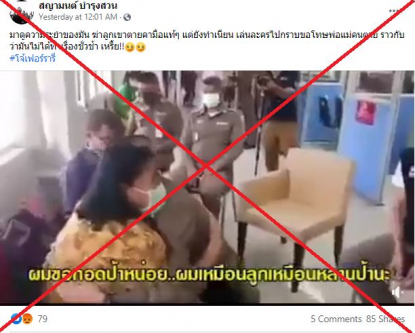 Screenshot of the misleading post, captured on August 26, 2021.
The same video was also shared here, here, and here on YouTube alongside a similar claim.
However, the claim is misleading.
The video shows Thitisan speaking to a different couple about an unrelated case about a missing car. 
It has circulated online since at least January, more than seven months before the custody death case.
AFP found a longer version of the video was published here on Facebook on January 25 by Thai media organisation Nakhon Sawan News.
Below are screenshot comparisons of the video shared in the misleading posts (L) and the Facebook video published by Nakhon Sawan News (R):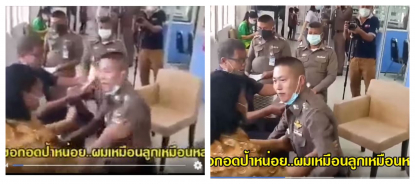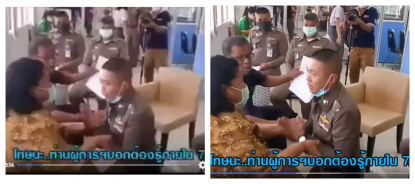 Screenshot comparisons of the video shared in the misleading posts (L) and the Facebook video published in January 2021
The longer video's caption reads: "Probably, everyone knows who Uncle Sompong is. He came to ask the police to reinvestigate his case. He even went to several TV shows and the Royal Thai Police Headquarters".
Asachi Thipcharoenporn, editor-in-chief of Nakhon Sawan News, told AFP one of his journalists filmed Thitisan discussing an unrelated case with a different couple.
He said: "There was a case when an uncle had parked his car at the police station.
"One day, a repairman whose job is to sell parts of the vehicle from the police accidentally took the uncle's car and sold it. The uncle thought it was unfair so he came to ask for justice."
At the video's eight-second mark, the seated man can be heard saying: "Everybody in here has to know. It's a car".
The same case was reported by multiple Thai media organisations, including MCOT here on October 2020 and Channel 3 here on November 2020. 
Channel 3 also interviewed the same couple in this video published on November 6, 2020: