Doctored photo falsely claims to show former South Korean president in Japanese military uniform
A photo has circulated on social media in South Korea purporting to show the country's former president Park Chung-hee dressed in Japanese military uniform during Japan's occupation of Korea. The photo, however, has been doctored; Park's image has been digitally inserted onto a photo that online posts say shows a Japanese military officer during World War II. 
The photo was shared here on Ppompu, a South Korean internet forum, on August 15, 2021.
Its Korean-language caption states, "We must never forget. [Japanese collaborators] are still leeching off this country."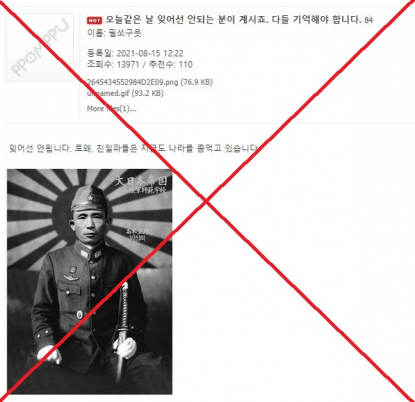 Screenshot of the misleading claim posted on Ppomppu. Captured August 23, 2021.
The photo purports to show Park Chung-hee -- South Korea's president from 1963 to 1979 -- holding a sword and dressed in the uniform of a Japanese military officer.
In the background is a Japanese Rising Sun Flag, a symbol which carries connotations of colonial rule in Korea, which was under Japanese rule from 1910 to 1945.
Park during his youth served as an officer in the Manchukuo Imperial Army -- a military force of a puppet regime under Japanese control.
This fact has been acknowledged by his daughter, former South Korean President Park Geun-hye, in this report by South Korean news agency Hankyoreh on October 22, 2015.
The photo has circulated since at least 2011, but has resurfaced more recently on Facebook here, here, here and here. 
The photo, however, has been doctored.
Combined reverse and keyword searches found an identical photo of Park was published here on his online presidential archive website.
The photo's caption dates it to August 12, 1961, and reads in Korean: "Chairman Park Chung-hee's profile photo after the revolution" -- referring to Park's coup d'etat on May 16, 1961.
Screenshot of former President Park Chung Hee's online presidential archives. Captured August 24, 2021.
An identical photo with a higher resolution was also shared on this Naver blog post on February 11, 2014.
Below is a comparison of a close-up of the doctored photo flipped horizontally (L) and the photo of Park from the Naver blog post (R):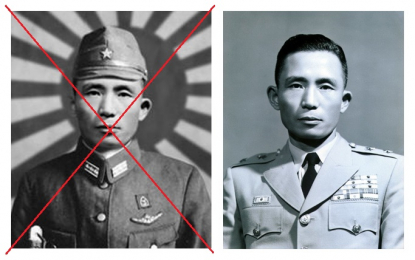 Comparison of a close-up of the doctored photo (L) and the original photo of Park's face from a Naver Blog (R)
Park's photo had been digitally inserted onto another photograph published here on a Japanese blog on August 16, 2009.
The background of the latter was also altered and replaced with the Rising Sun Flag.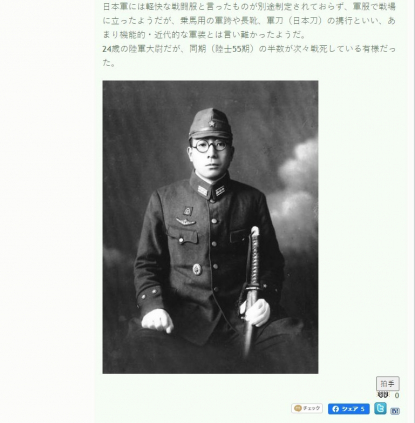 Screenshot of the original photo found on a Japanese blog. Captured August 20, 2021.
The blog post does not identify the figure in the photo, but describes the man as a 24-year-old captain in the Japanese Imperial Army who was posted to the New Guinea front during World War II.
AFP contacted the blog's author to identify the figure in the original photo, but did not immediately receive a reply.
Below is a comparison of the doctored photo (L) and the photo posted on the Japanese blog (R):
Comparison of the doctored photo (L) and the original photo found on a Japanese blog (R)