Images show models in makeup for magazine photo shoot
An Instagram post liked more than one million times features photos of two Black people it describes as the world's darkest and lightest men. But the images were taken for a magazine photo shoot and  both models' skin tones were enhanced with makeup.
"The world's darkest and lightest men... both are 'Black,'" says text accompanying the photos shared in an August 3, 2021 Instagram post. 
A screenshot of an Instagram post taken on August 20, 2021
The same photos have previously circulated here, here and here. 
A reverse image search showed that the people in the images are Senegalese model Papis Loveday and African American model Shaun Ross.
A screenshot taken on August 20, 2021 shows an Instagram post by Papis Loveday
US model Shaun Ross at SVA Theatre on January 15, 2019 in New York City ( AFP / Angela Weiss)
The full photo shoot, from 2011, can be seen on Chaos Magazine's Facebook page here. 
In the below photo on stylist Alexis Knox's website, makeup artist Ami Streets is seen applying makeup on Loveday's body.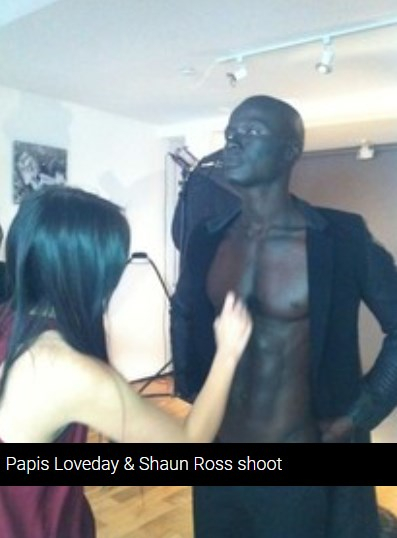 A screenshot taken on August 20, 2021 shows an image displayed on stylist Alexis Knox's website
Streets, the makeup artist for both models in the photo shoot, told AFP that she "used MAC full coverage foundations and powders in black and white shades to enhance both of the models' natural skin tones."
"Shaun is albino so naturally has a lack of pigment in the skin, which is very pale in real life, and Papis has a naturally dark skin tone, the makeup was really just to sculpt and contrast a little more for the purposes of the photo shoot," she added. 
Additionally, Guinness World Records has previously said that it "does not monitor records for skin tone," in a tweet on its official account debunking a similar claim made about Black model Nyakim Gatwech in 2020.