This video shows NBA fans in the US, not football fans waiting for Messi in Paris
A video has been viewed tens of thousands of times in Facebook posts that claim it shows a large crowd of fans purportedly waiting for Lionel Messi at a Paris airport as the football superstar joined French club Paris Saint-Germain (PSG) in August 2021. The claim is false: the video in fact shows fans gathered in the US city of Milwaukee before a National Basketball Association (NBA) game in July 2021.
"Paris fans at the airport waiting for Messi," reads the caption to this video shared on Facebook on August 10, 2021.
The video has since been viewed more than 60,000 times.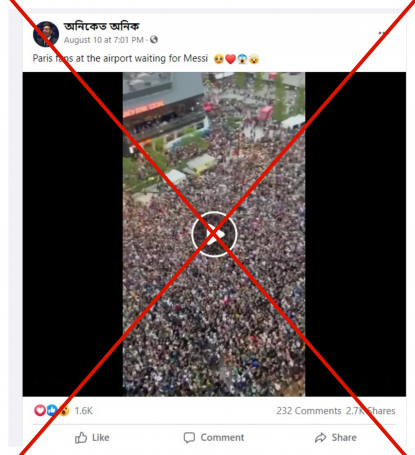 Screenshot of the misleading Facebook post taken on August 17, 2021
The misleading post circulated online as football superstar Lionel Messi left Barcelona Football Club and signed with PSG in August 2021, AFP reported.
The same video was also shared alongside a similar claim on Facebook here, here and here; and on YouTube here and here.
But the claim is false. The video shows basketball fans before an NBA game in the US -- not football fans waiting for Messi in Paris.
A reverse image search of the video's keyframes extracted using InVID-WeVerify, a digital verification tool, found a similar video was shared here on the official YouTube account of the NBA on July 21, 2021.
"The Deer District Right Before Tip," reads the NBA video's caption.
"Deer District" refers to an event venue in the city of Milwaukee in the US state of Wisconsin.
The Milwaukee Bucks captured their first NBA title since 1971 by defeating the Phoenix Suns in July, AFP reported.
An expanded "Deer District" party zone outside the sold-out 20,000-seat arena welcomed 65,000 people watching on videoscreens and they had the celebration they had hoped to enjoy.
Below is a screenshot comparison of the video in the misleading posts (L) and the video posted on the official YouTube account of the NBA (R) with similarities highlighted by AFP: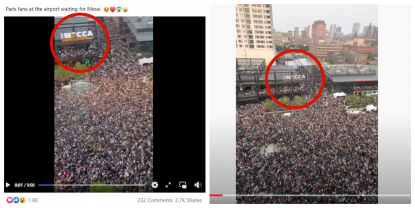 Both videos correspond to this location of Deer District shown on Google Street View.
This Associated Press (AP) report on August 4, 2021 about possible Covid-19 cases linked to large crowds celebrating Milwaukee Bucks' first NBA title in July also shows a similar photo.
The AP photo is captioned: "Fans gather in the Deer District for Game 6 of the NBA Finals between the Milwaukee Bucks and the Phoenix Suns at Fiserv Forum on Tuesday, July 20, 2021, in Milwaukee."