False posts misrepresent Filipino artist's painting as Van Gogh's
An image has been widely shared in social media posts alongside a claim it shows a painting by the Dutch artist Vincent van Gogh. The claim is false: the image in fact shows part of a painting by a Filipino artist who told AFP he was inspired by Van Gogh's style.
"'Toil today, dream tonight' - Van Gogh," reads the caption to this image shared by a Philippine-based Facebook user on August 28, 2019.
The image appears to show a painting -- done in Van Gogh's distinctive style -- of farmers planting in a field under a bright sun.
Text overlaid on the image's lower right corner states: "fine art america".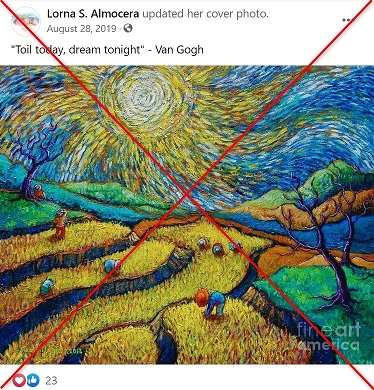 A screenshot of the misleading post taken on August 17, 2021
The image has circulated online alongside a similar claim in posts in Malaysia, Thailand and Egypt. It was shared here by a US-based account more recently in April 2021.
But the claim is false: the image shows a part of a painting by a Filipino artist -- not Van Gogh.
A reverse image search on Google found the image corresponds to a part of this painting that is up for sale on the website fineartamerica.com.
The painting's description reads: "Toil Today Dream Tonight diptych painting number 1 after Van Gogh by Paul Hilario".
A diptych is a painting made of two parts. The other part of the painting shows a night scene.
Further keyword searches found the diptych was also posted on Hilario's Facebook page on September 13, 2013.
Its caption reads in part: "For Van Gogh lovers. / Toil Today, Dream Tonight / After Van Gogh / Acrylic on canvas / 24" by 60" (Diptych) / 2013". 
Hilario confirmed to AFP his painting was inspired by Van Gogh.
"The painting was painted after his style or influenced by his style," he said on August 13.
A spokeswoman for the Van Gogh Museum in Amsterdam, which holds the largest collection of the Dutch artist's works, also told AFP Van Gogh did not paint "Toil Today, Dream Tomorrow". 
"[O]ur Research Department can confirm that the painting indeed is not part of any of the Van Gogh oeuvre catalogues," said Milou Bollen, press officer at the museum, on August 14.