Indonesian cemetery photo wrongly shared in posts about Sri Lankan coronavirus deaths
An image of a burial ground has been shared in multiple Facebook posts which claim it shows a site for Covid-19 fatalities in Sri Lanka. The claim is false: the image actually shows a cemetery in Indonesia.
The image was shared in this Facebook post published on August 10, 2021.
The caption reads: "Ottamawadi graveyard / Stay safe".
Ottamawadi -- also known as Oddamawadi -- is a burial ground in eastern Sri Lanka that has been designated for the burial of Covid-19 fatalities.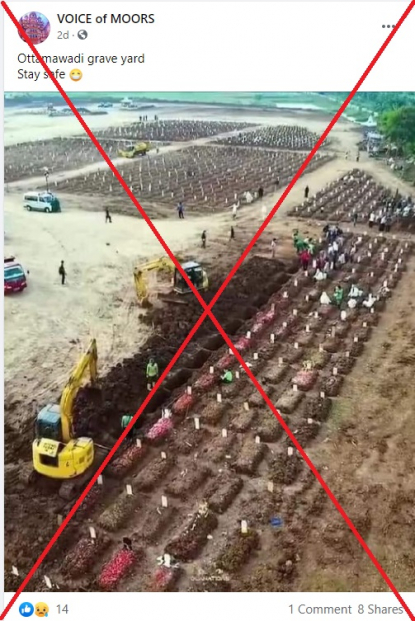 Screenshot of the Facebook post captured on August 11, 2021
From April 2020 to February 2021, the Sri Lankan government followed a policy of mandatory cremations for Covid-19 fatalities.
The government, however, relaxed the policy in February to permit Muslims to bury their dead in line with Islamic rituals, AFP reported.
A land plot was selected in Ottamawadi to bury Covid-19 fatalities, according to Sri Lankan media outlet Ada Derana.
The same image has been shared on Facebook here and here alongside a similar claim.
The claim, however, is false: the image actually shows a cemetery in northern Jakarta.
A reverse image search of the photo in the misleading posts on Yandex found a similar photo in this article published by Indonesian newspaper Jawa Pos on July 10, 2021.
The article states Indonesia's emergency coronavirus restrictions were extended to 15 regions outside of Java and Bali due to a spike in coronavirus infections.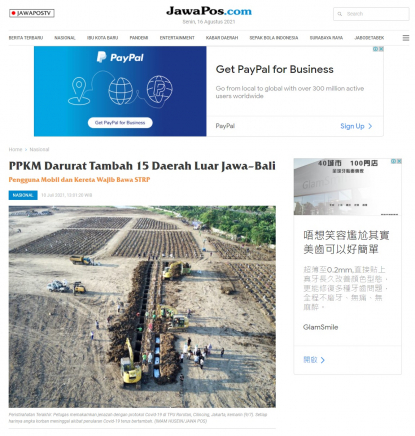 Screenshot of the Jawa Pos article captured on August 14, 2021
The photo's caption reads: "Officers bury the bodies according to the Covid-19 protocols at the TPU Rorotan cemetery, Cilincing, Jakarta, yesterday (9/7). Every day the number of victims who die due to the spread of Covid-19 continues to increase."
The location shown in the Jawa Pos image corresponds with the burial site pictured in the misleading posts.
Below is a screenshot comparison of the photo in the misleading Facebook post (L) and the Jawa Pos photo (R) with similarities highlighted in yellow by AFP: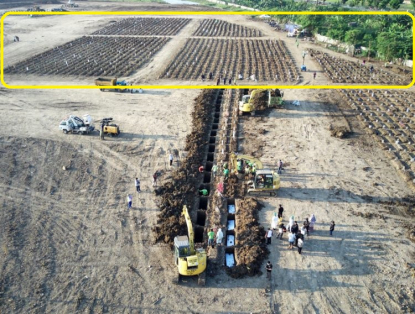 The photo in the misleading posts also corresponds with this Google street view image of the TPU Rorotan cemetery on Google Maps: