Old video of Messi fan crying misleads after star's shock Barcelona exit
Following Lionel Messi's confirmation he was leaving FC Barcelona after more than two decades, a video was viewed tens of thousands of times in social media posts claiming it showed a fan sobbing outside the club's Camp Nou stadium upon hearing the news. The posts are misleading; the video is from August 2020, when the Argentine star said he wanted to leave Barcelona, although he later announced he would stay.
"A football fan outside Camp Nou after hearing the news conference about Messi leaving the club," reads a Facebook post from August 7 in a group called "FC Barcelona Thailand Fanclub", which has more than 400,000 followers.
The video -- which has been viewed more than 60,000 times -- shows a man crying into a Messi shirt as he kneels on the ground.
"This isn't possible! It didn't have to end this way Bartomeu, it didn't have to end like this!" he shouts, referring to FC Barcelona's former president Josep Maria Bartomeu.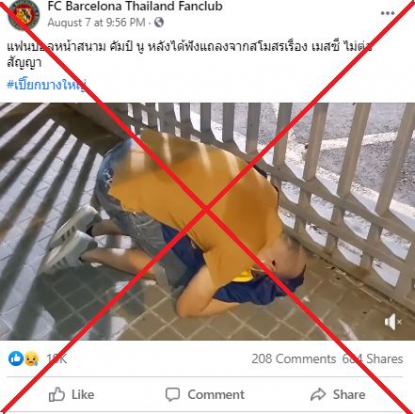 Screenshot of a misleading post, captured on August 11, 2021
The video was shared in similar posts around the world, including in English, French, Romanian, Spanish and Thai.
The Argentine player -- considered by many the most gifted in football history -- confirmed he was leaving Barcelona at a tearful press conference on August 8, after 21 years at the club. Paris Saint-Germain later announced he had signed a two-year deal with the club.
While Messi's exit shocked fans and sparked a wave of tributes to the star, the video circulating online has been shared in a misleading context.
A reverse image search on Yandex revealed screenshots from the video published in an article from August 28, 2020, by Turkish news site Haberfull. The headline reads, "A Barcelona fan cries his eyes out for Lionel Messi, who is leaving the team, Lionel Messi crisis continues in Barcelona".
Below is the screenshot comparison of misleading video (left) and a screenshot from Haberfull's report (right):
Screenshot comparison of misleading video (L) and video in the Haberfull report (R)
Keyword searches found a similar clip tweeted by multiple sports media outlets, including Goal Italia on August 27, 2020. "In tears outside of Camp Nou, this is what Messi means to the fans," the tweet reads.
On August 25, 2020, it was announced that Messi had communicated to the Barcelona leadership his desire to "unilaterally terminate" his link with the team. However, he reconsidered the decision and later announced that he would stay within the same year.
One of the reasons for him wanting to leave the club in 2020 was the disagreements with then-president Bartomeu, who resigned in October 2020.