Misleading posts share outdated Covid-19 vaccine advice from Pakistan's health ministry
Facebook and Twitter posts circulating in Pakistan purport to show health ministry guidelines listing groups of people who should not receive the Sinopharm Covid-19 vaccine, including pregnant women. The posts are misleading: the guidance is out of date. The health ministry later changed its advice to recommend the jab for expectant mothers.
"After blindly vaccinating 30 million people, the government has finally issued a notification on who cannot get the vaccine," reads an Urdu-language tweet posted on August 7.
The post shows a picture of a document featuring the Pakistan health ministry's logo, alongside a purported list of people who "should not get the Sinopharm vaccine".
The list includes people over 60, pregnant women, breastfeeding mothers and people with heart and breathing problems.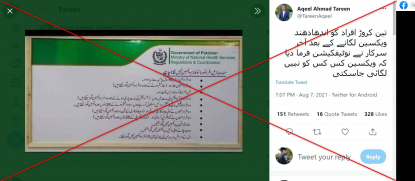 Screenshot of the misleading post. Taken on August 10, 2021.
The same image has been shared alongside a similar claim in Facebook posts here, here and here; and on Twitter here, here and here.
However, the posts are misleading.
Pakistan's health ministry said they were based on old advice issued in February that had since been changed.
"This was the first set of guidelines issued by the ministry for Sinopharm in February. At the time, [the Drug Regulatory Authority of Pakistan] concluded that there was not enough data from trials or uses in the world. When more data became available, then the guidelines were revised in March," the ministry tweeted on August 9.
It said that new guidance showed that "Sinopharm is safe and effective for people above 18 years of age (men, women), in addition to pregnant and breastfeeding women".
فروری میں سائنوفارم کے لیے وزارت کی طرف سے جاری کردہ ہدایات کا یہ پہلا مجموعہ تھا۔ اس وقت ڈریپ نے یہ نتیجہ اخذ کیا کہ دنیا میں ٹرائلز یا استعمال سے حاصل کردہ ڈیٹا کافی نہیں تھا۔ جب مزید ڈیٹا دستیاب ہوا، تو مارچ میں ہدایات پر نظر ثانی کی گئی 1/2 pic.twitter.com/h6dSJjRr3M

— Ministry of National Health Services, Pakistan (@nhsrcofficial) August 9, 2021
The original advice from February is no longer available on the health ministry's website.
Pakistan's Covid-19 response body, the National Command and Operation Center (NCOC) said the document contained "incorrect information".
"Wrong and misleading information is circulating on social media regarding administration of various vaccines. For authentic and updated guidelines on vaccines, please visit https://covid.gov.pk/guideline," it tweeted on August 9.
NCOC guidelines from June 20 state that people aged 18 and above are eligible for the Sinopharm jab, in addition to pregnant and breastfeeding women.
"Vaccination is recommended for persons with comorbidities that have been identified as increasing the risk of severe COVID-19, including obesity, cardiovascular disease, respiratory disease and diabetes," it says.
The World Health Organization (WHO) approved the Sinopharm vaccine for emergency use in May.
The WHO recommends the Sinopharm jab -- also known as the BIBP vaccine -- to pregnant women "when the benefits of vaccination to the pregnant woman outweigh the potential risks".
"The available data on the COVID-19 vaccine BIBP in pregnant women are insufficient to assess either vaccine efficacy or vaccine-associated risks in pregnancy. However, this vaccine is an inactivated vaccine with an adjuvant that is routinely used in many other vaccines with a documented good safety profile, including in pregnant women," it said.
"The effectiveness of the COVID-19 vaccine BIBP in pregnant women is therefore expected to be comparable to that observed in non-pregnant women of similar age."