This photo was taken in the Philippines in 2020
A photo has been shared thousands of times in Facebook posts that claim it shows a father carrying his baby to safety after heavy floods struck Myanmar in July 2021. The claim is false; the photo was taken in the Philippines in November 2020. 
The photo was posted here on July 27 in a Facebook post shared more than 4,000 times.
"The sacrifice and love of a father during the flooding in Myanmar," the post reads.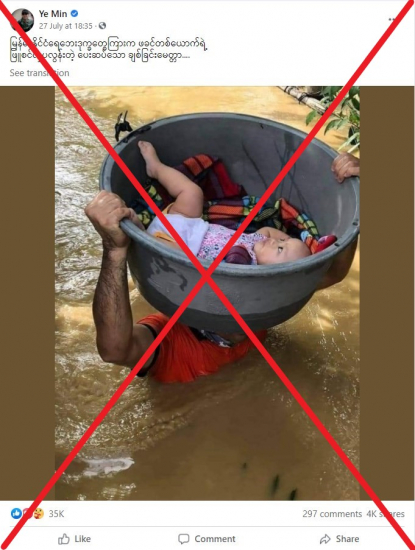 Screenshot taken on July 29, 2021 of the misleading post
Similar Facebook posts have been shared here, here, here and here.
Floodwaters have forced thousands from their homes after heavy monsoon rain pounded southeast Myanmar in late July.
However, the claim shared on Facebook is false.
The photo was taken by the Philippine Coast Guard during a rescue operation after Typhoon Vamco caused flooding in the archipelago's northern provinces in November 2020.
AFP published the photo at the time, and it is still available here in AFP archives.
The photo caption reads, "This recent undated handout photo received from the Philippine Coast Guard (PCG) on November 14, 2020 shows coast guard personnel using a basin to evacuate a child from a flooded home in Cagayan province, north of Manila, days after Typhoon Vamco hit parts of the country bringing heavy rain and flooding."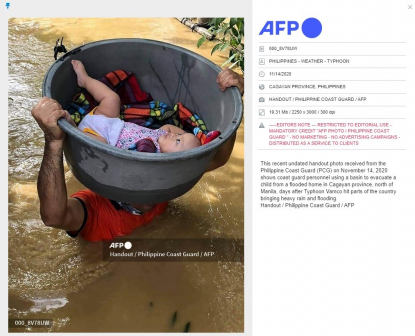 Screenshot of the photo on AFP's website
The Philippine Coast Guard posted the photo on Facebook on November 14, 2020.
The same photo was also published with the correct caption in this report by Vice magazine about flooding in the Philippines.