Danish farmers not required to set aside land for flowers
Social media posts claim Danish farmers are legally obligated to grow flowers on five percent of their land to provide habitat for bees. But agricultural authorities and a farmers' federation in Denmark say the claim is false, though the European Union does provide incentives for land use that benefits biodiversity.
"In Denmark, farmers are required by law to grow field flowers for the bees in 5 % of their country," says a July 26, 2021 Facebook post  that includes an image of a strip of flowers between farm fields.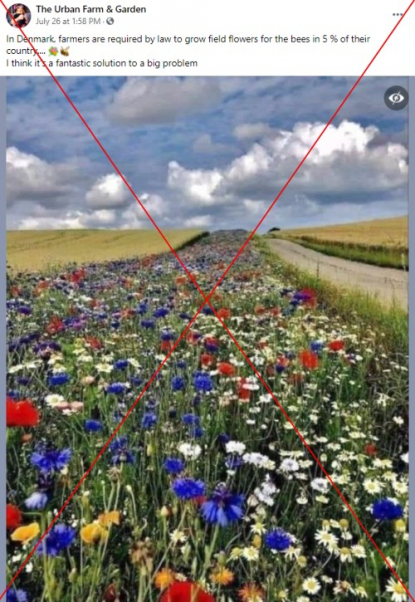 Screenshot of a Facebook post taken on July 28, 2021
Nearly identical posts featuring the same photo circulated on Facebook in French -- shared more than 200,000 times, Spanish -- with 1.8 million shares -- and Portuguese.  In English it also appeared on other platforms including Twitter and Instagram.
However, no such legal requirement exists in Denmark.
Mille Marie Christensen, spokeswoman for the Danish Farmers' Federation, told AFP that "there is no law in Denmark that says farmers must dedicate five percent of their land to flowers in order to foster biodiversity and bees."
And the Scandinavian country's Agriculture Agency confirmed that there is no five percent requirement.
"Land area left fallow for flowers, for pollination, or on the outskirts of fields represent a fraction of all the areas deemed of environmental importance," the agency added.
EU incentives
Denmark is one of Scandinavia's most agricultural countries, with 61 percent of its land dedicated to the practice, according to 2019 official figures, which are the latest. 
The European Union has encouraged the planting of flowers on the perimeter of agricultural land. Farmers who wish to receive the bloc's "green direct payments", in support of environmental and climate goals, must "dedicate five percent of arable land to areas beneficial for biodiversity," among other requirements.
But leaving land fallow to allow flowers to grow is just "one of several options that can meet the five percent" criterion, the Danish Agriculture Agency said, adding that it works with "environmental organizations and the agriculture industry in order to promote these fields rich in flowers."