Fake typhoon warning spreads panic in Philippines
Facebook posts shared in the Philippines warn of an approaching "super typhoon" even more powerful than Typhoon Haiyan, the country's deadliest storm on record which left more than 7,000 dead or missing in 2013. The claim is false: the national weather authority said it had issued no such warning, as of July 25. 
"Is this true? The number of typhoons is already beyond quota," reads a Facebook post published on July 24.
It features a screenshot of another Facebook post which warns a "super typhoon" called Maria is due to hit several provinces, including the capital Manila, "which may result in floods and landslides".
"According to data from the US Joint Typhoon Warning Center, the tropical cyclone is a category 5, which is equivalent to a super typhoon or as strong as Typhoon [Haiyan]...The super typhoon threatens to hit Japan and eastern China next week. Please share this so everyone can see it and be aware."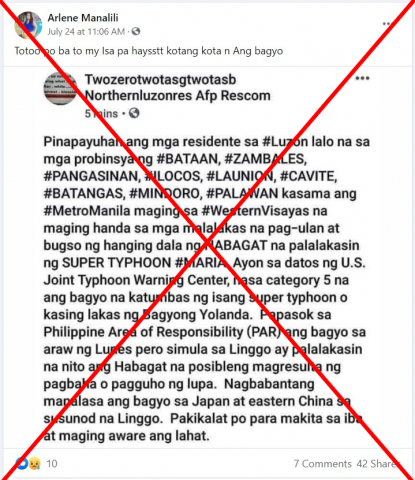 Screenshot of misleading post taken on July 28, 2021
Super Typhoon Haiyan was one of the strongest ever recorded, leaving more than 7,300 people dead or missing as it tore across the central Philippines in November 2013. 
Similar posts warning of an imminent typhoon in July 2021 were shared here, here and here.
The posts emerged as monsoon rain persisted in many parts of the archipelago after Typhoon In-Fa exited the Philippine Area of Responsibility -- the Pacific Ocean domain monitored by forecasters that is close to the archipelago -- on July 24.
Many social media users appear to have been taken in by the warning.
"Lord, protect us and the whole Phil, Amen," one person commented.
"Keep safe everyone. Pray. God is in control," another wrote.
However, the posts are false.
The national weather authority said on July 25 that there were no storms on the horizon.
"Based from all available data, apart from Typhoon "IN-FA" and Tropical Storm "NEPARTAK" outside the Philippine Area of Responsibility (PAR), there are no other tropical cyclones that are expected to enter the PAR and affect the Philippine landmass within the next 3-5 days," the Philippine Atmospheric Geophysical and Astronomical Services Administration (PAGASA) said in a Facebook post.
Keyword searches on Facebook show the information in the screenshot has been circulating online for years, including in this post from July 8, 2018 that was shared more than 10,000 times.
At the time, Super Typhoon Maria was moving through the Pacific Ocean toward the Philippines. The storm did not land in the country but "enhanced the southwest monsoon", PAGASA said in an advisory on July 9, 2018.