Bangladesh has not added a new geographical division
Facebook posts shared in Bangladesh claim the government has created a new geographical division, bringing the number of divisions -- which underpin the administrative structure of the 166-million-strong nation -- to nine, after the status of southeastern Cumilla district was apparently upgraded. The claim is false: a government spokesman said the reports were "totally false", while AFP found no mention of the alleged changes in local media.
"Congratulations! A long-awaited dream of the people of Cumilla comes into reality," reads a Bengali-language Facebook post published on July 26.
"The new division comprises Chandpur, Feni, Noakhali, Lakshmipur, Cumilla and B Baria."
The post claims the new Cumilla division is home to around 16.7 million people.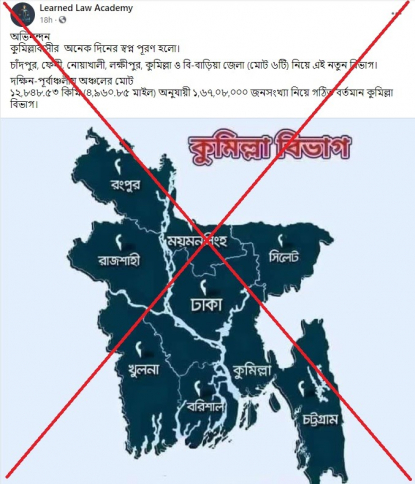 Screenshot of the misleading post, taken on July 28, 2021
Cumilla, previously spelled Comilla, is a district under the division of Chattogram, which lies on Bangladesh's southeastern coast.
Bangladesh is made up of eight divisions -- Dhaka, Chattogram, Rajshahi, Rangpur, Mymensingh, Khulna, Sylhet and Barisal -- which are home to the country's 64 districts.
Similar Facebook posts were shared here and here.
However, the claim is false.
The Bangladeshi government decided to form three new upazilas (sub-districts) in three districts -- "Eidgaon" in Cox's Bazar, "Modhyanagar" in Sunamganj and "Dashar" in Madaripur.
The approval came at a meeting of the National Implementation Committee for Administrative Reform (NICAR) on July 26, 2021 which was presided over by Prime Minister Sheikh Hasina.
The move was a bid to "ensure balanced development in those remote areas", The Daily Star reported.
However, there were no mentions in news reports of Cumilla being upgraded to division status.
Meanwhile, authorities told AFP the reports were false.
Mohammad Kaikobad Khandaker, a NICAR spokesman and a deputy secretary at the cabinet division said that no such decision had been taken.
"It's totally false. The government did not take any such decision to declare Cumilla a division," he told AFP.
No mainstream Bangladeshi media reported on the purported upgrading of Cumilla district's status.