False posts circulate online about jailed Philippine senator
A video that has been viewed tens of thousands of times online claims jailed Philippine Senator Leila De Lima was removed from office and barred from seeking reelection in upcoming 2022 polls. But these claims are false. As of July 29, 2021, De Lima was neither removed from office nor barred from reelection, the Philippine Senate and Commission on Elections separately told AFP. 
The video which purports to be a "breaking" news report was posted to YouTube here on July 23, 2021. It has been viewed more than 24,000 times.
The headline of the video reads in part: "De Lima disqualified in Senate and removed from office".
A portion of the video shows a graphic shared by Senator Leila De Lima on Facebook on July 21 announcing her reelection bid -- overlaid with text that states: "DISQUALIFIED".
The video then plays a clip of a social media user hurling expletives against the senator.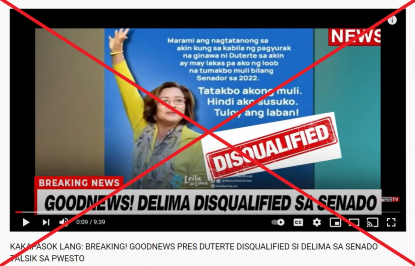 A screenshot of the misleading post taken on July 27, 2021
De Lima, a high-profile critic of Philippine President Rodrigo Duterte's brutal drug war, was arrested in 2017 on charges she said were meant to silence her, AFP reported.
She has been in police detention since.
An identical video was also shared on Facebook here, here and here.
Comments on the posts indicate some viewers were misled by the video's claims.
"It's only right that she's disqualified! It would be embarrassing to let her run," one wrote.
But the claims are false.
"No, she was not [removed]," Philippine Senate President Vicente Sotto III told AFP on July 29.
The claims she was removed as a senator are "pure fiction," De Lima told AFP on July 28.
"No such thing has happened," she said.
Not disqualified
De Lima has not been barred from seeking reelection in the 2022 polls, Commission on Elections spokesman James Jimenez told AFP on July 28.
"The notion that the disqualification of Senator Leila De Lima from running for office is fait accompli has no basis in law," Jimenez said.
The misleading video presents no evidence to support its claims against De Lima.
In fact, it mentions remarks made by Duterte's spokesman Harry Roque that it is her "right" to seek reelection in 2022.
"If she will run, that's her right, so long as she is not convicted with finality," Roque said during a July 21 press briefing. in response to De Lima's reelection bid announcement.
Multiple keyword searches found no reliable news or government reports that De Lima had been removed as senator or disqualified from running in 2022.