Doctored collage falsely claims union leader slammed Sri Lanka's government for buying Covid-19 vaccines
A photo collage has been shared in multiple Facebook posts that claim it shows a news report where a union leader purportedly criticised the government for procuring Covid-19 vaccines instead of paying teachers' salaries. But the claim is false: the photos in the collage have been doctored to add fabricated remarks into an original report that aired before the wide availability of Covid-19 vaccines in the country.
The photo collage was shared more than 300 times here on Facebook on July 22, 2021.
It shows screenshots of a purported television news interview with Sri Lankan teachers union leader Joseph Stalin.
The image at the top features a Sinhala-language news ticker that states: "There is money to bring the vaccine".
The image at the bottom states: "but no money to increase salaries of teachers".
Both images feature the logo of local media organisation Hiru TV.
The post's caption translates as: "Typical petty JVP-er".
Screenshot of the misleading post captured on July 23, 2021 ( Lakna PARANAMANNA)
"JVP" is an acronym for the Janatha Vimukthi Peramuna political opposition party in Sri Lanka.
The post circulated online the same day teachers staged a protest in the capital Colombo demanding higher wages.
An identical photo collage was also shared alongside a similar claim on Facebook here and here.
The claim however is false: the photos in the collage had been doctored.
Keyword searches found the photos were taken from this video uploaded on Facebook on June 16, 2020.
The video's caption states: "A silent protest was staged with the participation of trade unions, community organizations today (16) at the Colombo Lipton Circus, expressing objection to the inhumane attack by the government on the protest staged by the Front Line Socialist party.
"The protestors called upon the government to halt attempts to curtail freedom of speech, assembly and to protest. A large crowd attended this protest."
The purported remarks made by Stalin about Covid-19 vaccines had been digitally inserted onto the screenshots, along with the Hiru TV logo.
Below is a screenshot comparison of the doctored photos (L) and the original news report (R):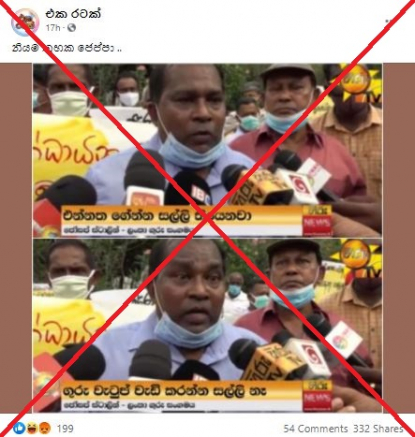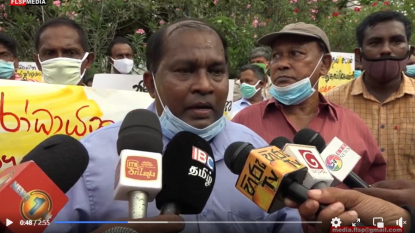 The video circulated online months before Sri Lanka began its Covid-19 vaccination program on January 29, 2021 as reported here by the state-run Rupavahini Sinhala News.
News telecasts aired noon, evening and late night by Hiru TV on July 22 -- the day the misleading posts started being shared online -- also do not show Stalin criticising the government for procuring Covid-19 vaccines.
In response to the misleading posts, Stalin told AFP on July 26: "I have not said such a thing... I have been lobbying for the teachers and other professionals in the education sector to be vaccinated before local school terms start."