Image of Indian political party's billboard doctored to include pro-Muslim message
An image of a billboard advert from an Indian opposition party that purports to include a pro-Muslim message has been shared repeatedly in multiple Facebook posts. The image, however, has been doctored from a photo of a billboard that displayed a different message. 
The misleading image was shared here in a Facebook group with more than 250,000 followers.
It purports to show a billboard advertisement from India's opposition Aam Aadmi Party (AAP).
The advert appears to read: "Gujarat will read Namaz. Quit useless traditions like Bhagwat Gita week and Satyanarayan Katha."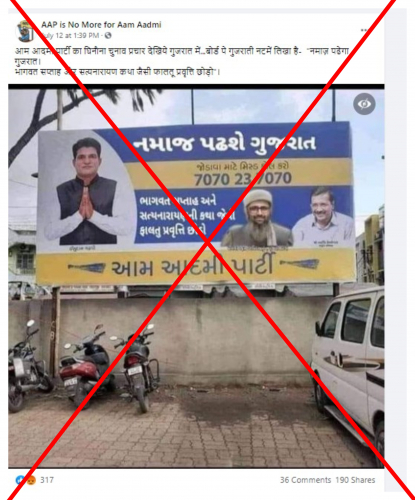 Screenshot of post with morphed image taken on July 23, 2021.
Namaz is a form of prayer performed by the Muslim community.
The Bhagavad Gita and the Satyanarayan Katha are Hindu religious texts. 
The post's Hindi-language caption translates to English as: "Watch the disgusting election campaign of the Aam Aadmi Party in Gujarat... The board reads in Gujarati, - 'Gujarat will read Namaz. Quit unnecessary tendencies like Bhagavad Gita Week and Satyanarayan Katha.' "
The post circulated online as the AAP prepared for the 2022 state legislative assembly elections in Gujarat. The build-up to the elections was reported by Indian newspaper The Hindu here.
India's ruling party Bharatiya Janata Party (BJP) has maintained a stronghold over the state since 1995.
The post was also shared on Facebook by several other accounts, for example here, here, here and here. 
However, the image of the billboard has been manipulated.
The original image was published here and here on the official Twitter accounts of the AAP in Gujarat. 
Below is a comparison of the manipulated image in the Facebook posts (L) and the image of the billboard posted by the AAP (R): 
On the original billboard, the text reads: "Now Gujarat will change".
In the manipulated image, this was replaced with: "Gujarat will read Namaz."
Text was added to the manipulated billboard's middle section.
In the original image, Gujarat AAP president Gopal Italia appears on the left. He does not have a beard and can be seen wearing a different cap to the man pictured in the doctored image.
The AAP debunked the manipulated billboard image in a Facebook post here.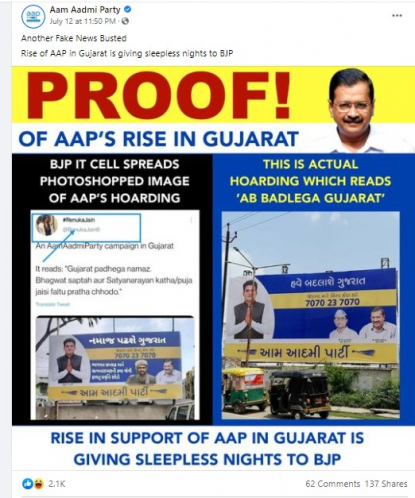 Screenshot of the post made by AAP on July 12, 2021. 
The post's caption reads: "Another Fake News Busted
Rise of AAP in Gujarat is giving sleepless nights to BJP."