Social media posts mislead on boxer-turned-senator Manny Pacquiao's university degree
Social media posts in the Philippines claim boxer-turned-senator Manny Pacquiao earned his university diploma in only three months, suggesting his degree was fraudulently conferred. The posts are misleading: an official from the University of Makati, where Pacquiao obtained a political science degree, said he finished the diploma in 16 months and that his government experience counted as academic credit. The misleading posts also misrepresent images related to Pacquiao's university attendance.
"If only it was like this for everyone," reads a Tagalog-language tweet posted on June 24, 2021.
The tweet features an illustration which claims Pacquiao enrolled at the University of Makati in September 2019 and then graduated three months later in December 2019.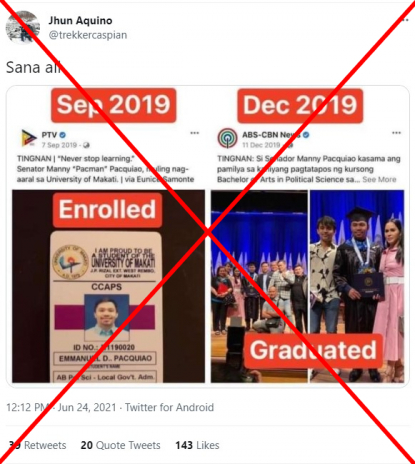 Screenshot of misleading post taken on July 21, 2021
Similar posts were shared on Facebook here, here and here.
The posts prompted accusations from social media users that Pacquiao's degree was fraudulently conferred.
"Bachelor of Science in most courses is 4 to 5 years schooling. . . . seems Pacquiao earned his degree by magic or in a diploma mill," one person commented.
The post emerged following a public skirmish between Pacquiao and President Rodrigo Duterte over the latter's handling of the South China Sea dispute with Beijing.
Until recently, Pacquiao was a high-profile backer of Duterte and his controversial drug war, which International Criminal Court prosecutors want to investigate for the alleged unlawful killing of possibly tens of thousands of people.
However, the posts claiming Pacquiao earned his degree in three months are misleading.
University degree
A spokesman for the University of Makati said that Pacquiao took a 16-month degree in political studies.
"Per the certificate of registration from our registrar's office, [he enrolled in] July 2018," Elyxzur Ramos, vice president for academic affairs at the University of Makati, told AFP.
"He took the modular program for 16 months, until November 2019. He graduated from this university in December [2019], which was our mid-year graduation."
The senator enrolled in the university's College of Continuing, Advanced and Professional Studies, where degrees count certain professional experience as academic credit, Ramos said.
The political science degree that Pacquiao earned was designed for qualified Philippine government officials and can be completed in between six and 22 months, he added.
The degree programme's launch in 2011 was reported by local media here and here; and announced on this local government website.
Misrepresented images
Furthermore, the images shared in the social media posts have been taken out of context.
Reverse image searches and keyword searches found the first image was posted on Pacquiao's official Facebook account on September 6, 2019.
However, it does not indicate that the senator had only just enrolled, as the posts claim.
"Never stop learning because life never stops teaching," the Facebook post reads.
The second image, which shows Pacquiao's graduation, was taken from this report by broadcaster ABS-CBN on December 11, 2019.
"Senator Manny Pacquiao with his family during his graduation from the course Bachelor of Arts in Political Science at the University of Makati this Wednesday," the image's Tagalog-language caption reads.