This video has circulated since 2018 in reports about vandals attacking a petrol station in Odisha
A video of a mob looting a petrol station has been shared in Facebook posts that claim it was filmed as oil prices surged in India in July 2021. The claim is false; the video has circulated online since at least October 2018.
"Today in #Puri #Odisha people's anger has broken out at a petrol station," reads the Hindi-language caption to this video shared on Facebook on July 3, 2021. Puri is a city in the eastern Indian state of Odisha.
"The rising prices of #Petrol_Diesel are going beyond the tolerance of the people of the country. Today, in Odisha, people vented their anger at a fuel station."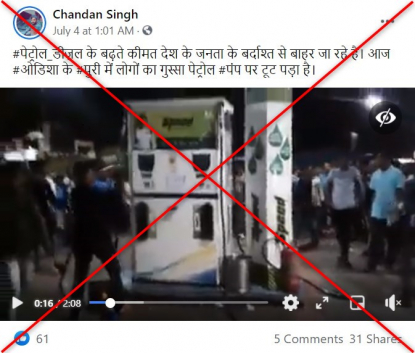 A screenshot of the misleading post taken on July 20, 2021
The video emerged as petrol prices reached record highs in Delhi, the Indian Express reported. Many major cities around the country have also seen surges.
An identical video was also shared alongside a similar claim on Facebook here and here.
However, the claim is false; the video does not show an incident in July 2021 as the posts claim.
Reverse image and keyword searches on Google found an identical video was posted here on YouTube on October 1, 2018.
The YouTube video is titled: "Attack on Petrol Pump, Puri, Odisha."
Below are screenshot comparisons of the video in the misleading posts (L) and the 2018 YouTube video (R):
Screenshot comparisons of the video in the misleading posts (L) and the 2018 YouTube video (R)
At the video's one-minute and 17-second mark, text written in local Odia language on the fuel pump machine could be seen which reads: "Certainty over Quantity. Every time".
This corresponds to the text shown in a photo in this local Odisha TV media report published on September 28, 2019.
The report reads in part: "Tension sparked off in Puri town on Friday evening after police... charged locals who allegedly ransacked a filling station."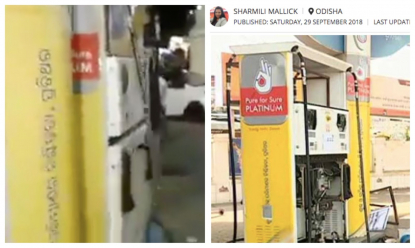 Screenshot comparison showing the corresponding text
The incident was also reported by local media, for example here, here and here.