Doctored photo used in Duterte-Lincoln comparison
Social media posts have shared pictures that appear to show Philippine President Rodrigo Duterte and US president Abraham Lincoln striking similar poses, suggesting parallels between the two leaders. The claim is misleading; Lincoln's photo has been digitally altered. The original version of the infamous portrait, taken in 1863, only shows Lincoln's head and shoulders in the frame. 
The pictures were posted here on July 6, 2021 in a Facebook post shared more than 2,500 times. 
It shows a side-by-side photo of Philippine President Rodrigo Duterte and Abraham Lincoln, US president from 1861 to 1865. Both are seen gazing into the camera and touching their faces with their right hand.
"Both the 16th President of the United States and the 16th President of the Republic of the Philippines were simple lawyers from the provinces. No one in America would ever question the ability of a simple lawyer from the provinces to lead a nation to greatness," the Facebook post reads.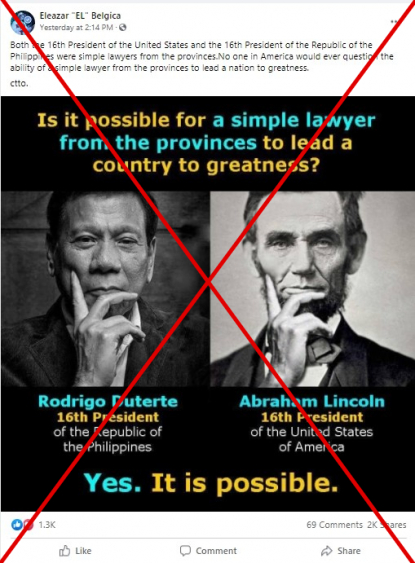 Screenshot of the misleading post taken on July 7, 2021
It is correct that both Lincoln and Duterte were lawyers before entering politics, and became the 16th president of their respective countries. 
Social media monitoring tool CrowdTangle shows the photo comparison first appeared online in 2016, when Duterte took office, and has been regularly reposted ever since.
Facebook users appear to believe the collage was genuine.
"The Pose!! Those Hands!! Those Intriguing Looks!! Intentional? 16th. Divine Intervention!!" one comment read.
"What a coincidence!! They also have the same habitual pose!!!" another person wrote.
The same image was shared on Facebook here and here, on Reddit here and on various blogs here and here. 
However, the posts are misleading; Lincoln's portrait, taken 152 years before Duterte's, has been doctored.
A reverse image search followed by multiple keyword searches shows the photo of Lincoln was captured by American Civil War photographer Alexander Gardner and published on November 8, 1863.
The photo is described on the US Library of Congress website as "Gardner photograph of Lincoln' head-and-shoulders portrait, facing front".
It does not show Lincoln's hand touching his face.
Below is a screenshot comparison of Lincoln's photo in the misleading post (L) and the original image (R):
A visual analysis shows the hand added to Lincoln's portrait was cloned from Duterte's photo, which was taken by Filipino photojournalist Edwin Tuyay.
Tuyay told AFP that the image is part of a set of photos he captured for local publication Asian Dragon Magazine for its July to August 2015 issue. 
"The photo was taken in 2015, [in] Davao City," he said.
Below is a screenshot comparison of Duterte's photo in the misleading post (L) and the original image (R):