This photo shows Yogi Adityanath greeting a child at Diwali celebrations in 2019
Facebook and Twitter posts share a photo of Indian politician Yogi Adityanath that they claim shows him pledging to support a newly orphaned child. The claim is false; the photo shows Adityanath greeting local children in Uttar Pradesh during Diwali celebrations in 2019. 
The photo was shared on Twitter here on July 6, 2021, where it has received more than 11,000 likes.
It shows Yogi Adityanath, a Hindu monk and chief minister of Uttar Pradesh state, with a young child. 
The tweet reads: "Yesterday Yogi in Kashi visit saw a child crying. He went to child & asked the reason. Child said my parents died. I was staying with Mama (uncle), yesterday he also d!ed. Yogi said, "Beta from 2day I am ur Mama." He ordered DM to take care of his food & education from CM fund till he gets job."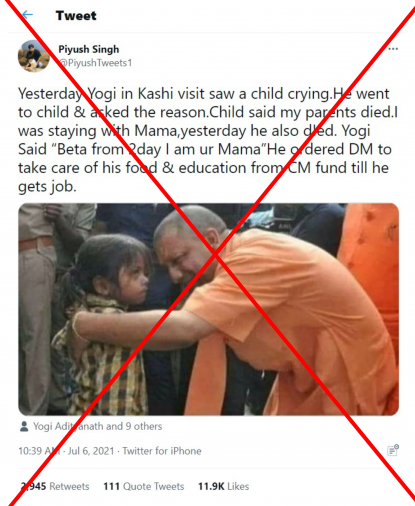 Screenshot of tweet
The photo and claim were also shared by several accounts on Facebook, for example here, here, here and here. 
Screenshot of social media posts sharing the claim
The claim, however, is false. 
A reverse image search on TinEye shows that the photo was published here in a report by news website Hindustan in October, 2019.
The photo was taken when Adityanath visited locals in Vantangiyas, a tribe of forest dwellers in Uttar Pradesh, during celebrations for the festival of Diwali. Adityanath has been celebrating Diwali with the villagers since at least 2007, as reported by Indian media the Times of India and Aaj Tak. 
Below is a comparison between the photo shared in the misleading 2021 Facebook and Twitter posts and the photo published on Hindustan's website in 2019.  
Screenshot comparing the photo in misleading posts (left) and on Hindustan's website (right)
News reports gave no further information about the child.
Similar photos showing Adityanath greeting Vantangiya children at Diwali celebrations were published by local media, including this picture from Dainik Jagran newspaper. 
Screenshot of the photo taken on July 8, 2021 from Dainik Jagran's website
This picture also went viral in 2020 alongside a similar misleading story and was fact-checked by news outlet The Logical Indian here