Cyclists in Germany do not need a licence
Social media posts in South Korea claim that Germany requires cyclists to hold a licence, which children across the country receive after taking part in training at school. The posts also claim that a cyclist's driver's licence can be suspended if they are caught cycling while drunk. The claims are misleading: cyclists in Germany do not need a licence and while cycling training is offered in many schools, pupils receive a certificate rather than a licence. A person's driver's licence can be annulled if they are caught cycling while under the influence of alcohol.
The claim was shared hereon Facebook on June 25, 2021.
The post's caption reads: "Cycling licences that elementary school students are required to receive".
It links to a blog post claiming that German cyclists are required to obtain a licence.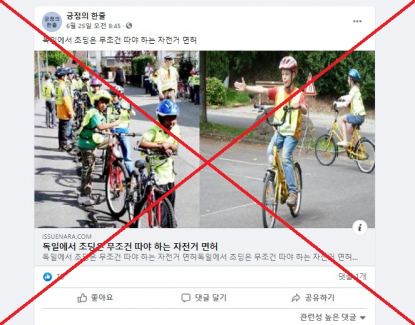 Screenshot of the misleading post. Captured June 25, 2021.
"The biggest difference between Germany and [South Korea] is that [in Germany] a person is required to receive a licence in order to cycle," the post claims. "One can only ride a bike after receiving a cycling licence under police supervision in Grade 5 at German elementary schools. The more shocking thing is that this licence, like protective gear, is not a choice, but is required".
"Also, if you cycle while under the influence of alcohol, your driver's licence gets cancelled." 
The post purports to show a worksheet given to schoolchildren to test their knowledge of traffic signals.
Screenshot of a purported test for children included in the claim. Captured July 8, 2021.
The claim was also shared on Facebook here, here, here and here.
The claims, however, are misleading.
Lisa Herzog, a spokeswoman for Germany's Federal Ministry of Transport and Digital Infrastructure, said that no licence was required to ride a bicycle in the country.
"In Germany, a driving licence is only required for operating motor vehicles, i.e. vehicles powered by an engine," she told AFP. "Riding a bicycle does not require such licence."
She said there was no national requirement to provide schoolchildren with cycling training, although "theoretical and practical cycling training is generally offered at primary schools" in the third and fourth grades.
In such cases, "after having passed the theoretical and practical examinations, pupils receive a certificate," rather than a licence.
Drunk cycling
Herzog said authorities can suspend a person's driving licence if they are caught cycling dangerously while under the influence of alcohol.
"In the absence of driver fitness, including during cycling, it is in principle possible to withdraw the driving licence for driving motor vehicles," she said. "For example, driving a bicycle with a blood alcohol concentration of more than 1.6 per thousand will result in a medical and psychological examination being ordered to clarify fitness."
"This applies to the driving/riding of all vehicles, i.e. bicycles and motor vehicles. The driving licence will then be withdrawn until clarification."
Sections 315c and 316 of the German Criminal Code specify that people who drive a vehicle while not in a condition to drive safely due to the consumption of alcoholic drinks can incur a  penalty.
Section 69 of the same code states people who endanger road traffic as per Section 315c can be "disqualified from driving by the court if the act shows they are unfit to drive a motor vehicle."
This English-language guidebook issued by the German Insurance Association and German Road Safety Council, makes no mention of a licence being required to ride a bicycle.
It does, however, advise against cycling "if you have drunk alcohol."
Keyword searches found the purported worksheet included in the claim here was originally shared on a website that offers practice materials for elementary school students in Germany.
The website does not include any reference to a mandatory cycling licence.