Posts make misleading comparison of virus restrictions in Sri Lanka and Hungary
Multiple Facebook posts shared repeatedly in June 2021 have compared the pandemic restrictions in Sri Lanka with Hungary. The posts, which shared an image of Hungarian football fans attending a Euro 2020 match in Budapest, criticised Sri Lanka's strict lockdown. The posts are misleading: as of June 28, 2021, almost half of Hungary's population had received a Covid-19 vaccine, compared to less than five percent of people in Sri Lanka.
"There are 21 corona deaths in Hungary today [but] 61,000 fans attended the football match," reads this Sinhala-language Facebook post on June 15, 2021. "The people there are free."
"Sri Lanka meanwhile has been in lockdown for about a month and is being dragged back to tribalism."
The post shared an image of Hungarian football fans before a Euro 2020 match against Portugal on June 15, 2021. It was taken from this news report by the Polish newspaper Polska Times.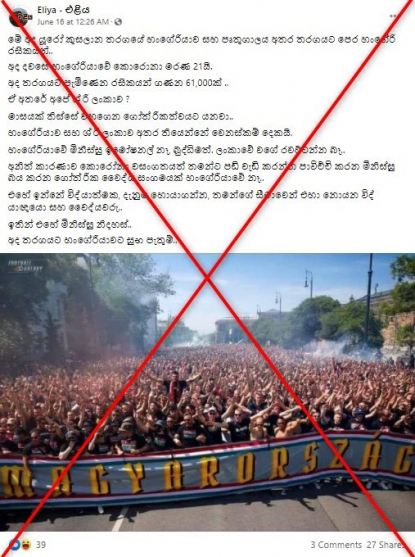 A screenshot of the misleading post taken on June 24, 2021
An identical claim was also shared in Facebook posts here and here.
The posts are misleading.
Match restrictions
Hungarian and Portuguese fans watched the match live at Budapest's Puskas Arena.
It was the only Euro 2020 tournament venue not to limit fan capacity as a Covid-19 health precaution, AFP reported.
But fans were still subject to certain Covid-19 restrictions -- including either a negative PCR test or coronavirus vaccination.
The guidelines for spectators were published here on the UEFA website and here on M4 Sports, a state-run sports channel in Hungary.
Misleading comparison
Tallies from the World Health Organisation database show that since June 2021, the number of Covid-19 cases detected daily in Hungary has dropped below 400.
By contrast, Sri Lanka recorded between 1717 and 3410 cases every day in June.
As of June 27, 2021, Hungary had fully vaccinated 49.5% of its population, while Sri Lanka had only fully vaccinated 4% of its population, according to this online database from the University of Oxford.
Dr. Padma Gunarathna, president of the Sri Lanka Medical Association, told AFP the posts were misleading.
"Hungary now has vaccinated 47% of the population and has achieved some hold of the transmission of the infection," he said on June 24, 2021.
"However, less than 4% of the Sri Lankan population has received the second dose of vaccine. If Sri Lanka relaxes the mobility restrictions without adequate vaccination, [the] appearance of a surge would be unavoidable."
A spokesperson from Sri Lanka's Health Promotion Bureau told AFP on June 29, 2021: "Owing to a variety of reasons - including the current percentage of persons vaccinated in the two countries and the new infection rates - superficial comparisons between Hungary and Sri Lanka is misleading. Travel restrictions and other Covid-19 combat measures were implemented in Sri Lanka strictly due to the high infection rates since April".