Posts misrepresent Zelensky's comments on US support
Conservative influencers in the United States are claiming Ukrainian President Volodymyr Zelensky said America's "sons and daughters" will be obligated to fight and die for his country. This is misleading; Zelensky's full remarks show he was saying Russia might invade a North Atlantic Treaty Organization (NATO) country if Ukraine loses the war, implicating the alliance's members in a larger conflict.
"Is this real? Zelensky saying Americans will send their sons and daughters to war for Ukraine and potentially die," says a March 1, 2023 tweet from the Hodgetwins, a pair of conservative commentators. "Oh hell no."
The post includes a 19-second clip of Zelensky viewed more than 7.5 million times. An English-language voiceover translates his remarks.
"The US will have to send their sons and daughters exactly the same way as we are sending their sons and daughters to war, and they will have to fight -- because it's NATO that we're talking about -- and they will be dying," the translator says. "God forbid because it's a horrible thing."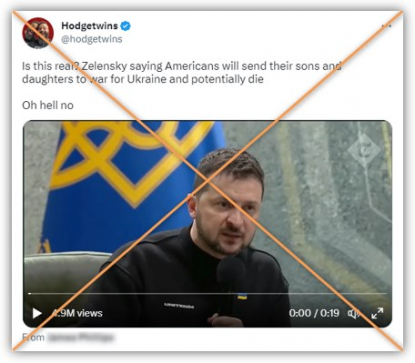 Screenshot from Twitter taken March 1, 2023
Posts on Facebook, Instagram, TikTok, Truth Social and Telegram framed the Ukrainian leader's comments similarly to the Hodgetwins. Conservative activist Jack Posobiec, far-right radio host Stew Peters, the Gateway Pundit and other conspiratorial accounts also promoted the claims.
"JUST IN: Ukraine's President Zelenskyy says US will have to send their sons and daughters the same way we're sending our sons and daughters to war," says a February 28 tweet.
"Zelinsky: Ukraine needs fresh young Americans to help fight on the ground war," adds another.
Screenshots from Twitter taken March 1, 2023
But Zelensky's full remarks show he was not calling for or predicting the deployment of American troops to defend his country.
Instead, he was discussing what could happen if the United States scales back its support and Russia invades a country that belongs to NATO, a political and military alliance of which Ukraine is not a part.
Zelensky's remarks
The video shared online comes from The Telegraph's recording of a press conference on February 24, the one-year anniversary of Russia's invasion.
Posts misrepresenting Zelensky's comments cut a 19-second snippet from the roughly three minutes he spent answering a question about his message to US citizens who believe their country is giving too much aid to Ukraine.
Zelensky thanked Americans for their support, which has constituted billions of dollars since the conflict began. He then described the potential implications for the United States if Russia wins.
AFP translated Zelensky's response from the original Ukrainian, with the part referenced online in bold:
"America will never abandon NATO countries, never. And if it so happens that Ukraine does not receive -- because of various opinions, because assistance slows down -- Russia will come to NATO states. It will happen.
"And then the United States of America will be sending its sons and daughters the same way as we today are sending ours. And they will fight. They will fight because it's NATO, and they will die, God forbid, because this is grief, terrible grief. I wish for the United States of America only peace and support for Ukraine."
The English translation in the Telegraph's video interpreted Zelensky's remarks slightly differently, but with essentially the same meaning.
NATO's mutual defense pact
The United States is one of 12 nations that founded NATO, which has swelled since its creation in 1949 to include 30 member countries.
Enshrined in the alliance's founding document is a mutual defense clause that says an attack on one member is an attack on the entire coalition. NATO first invoked the article following the September 11, 2001 terrorist attacks in the United States.
US President Joe Biden has said he will not send American forces to Ukraine. But he has separately vowed to "defend every inch of NATO," citing the alliance's mutual defense agreement.
AFP has debunked other misinformation about the war in Ukraine here.