AFP's editorial and ethical standards
AFP's worldwide network of fact-checking journalists and editors follow the standards laid out in the AFP Fact-Checking Stylebook, AFP's Editorial Standards and Best Practices and AFP's Charter. 
The Agency has a unique status under French law, which stipulates that AFP can under no circumstances be influenced by commercial, political or ideological interests that might compromise the accuracy or objectivity of the information it provides.
AFP Fact-Checking Stylebook
The Stylebook lays out our mission as fact-checkers. This includes prioritising claims that could cause harm, showing balance in our reporting and always ensuring accuracy. 
It details how fact-checks should be selected, sourced and written, raises awareness of the dangers of confirmation bias and emphasises our duty of care to the people covered in our investigations.
You can read more about how we investigate claims and write our fact-checks here. 
Editorial Standards and Best Practices
AFP's fact-checking teams also follow the agency's Editorial Standards and Best Practices, which set out the guiding principles for its editorial operations and are underpinned by a commitment to provide accurate, impartial and balanced coverage.
The 10 guiding principles that form the cornerstone of the policy are laid out below. Failure to respect these principles can lead to sanctions: 
AFP journalists are expected to provide accurate, balanced and impartial news coverage, and to correct errors quickly and transparently. 
AFP journalists must speak with an independent voice, free of prejudice, bias or external influence. They cannot be obliged to carry out a task that goes against their conscience.
AFP journalists must protect the confidentiality of sources and must never knowingly put them in harm's way. 
AFP journalists must respect the presumption of innocence.
AFP journalists have a duty to seek the truth and not passively report information as it is presented to them. They should challenge their sources and question the facts. 
AFP photo and TV journalists must not doctor images or videos and must not tamper with or alter subject matter. Text journalists must not manipulate quotes. 
AFP journalists must identify their sources of information transparently and not plagiarise. They must never submit a story to a source for vetting.
AFP journalists must exercise sensitivity when approaching victims or their relatives and avoid intruding on private grief. They must take particular care when interviewing or taking images of children, and whenever possible obtain parental consent. 
AFP journalists must identify themselves as such. They must not use subterfuge other than in exceptional circumstances with the approval of the news management.
AFP journalists do not use information they have gathered for their personal benefit or use their position for financial gain. They do not pay sources.
The Editorial Standards and Best Practices policy also lays out a specific set of norms relating to staff conduct to safeguard the non-partisanship and impartiality of the agency's coverage. These include: declaring any conflicts of interest that may appear to influence their work; ensuring that outside interests, activities and personal statements do not come into conflict with AFP's interest or reputation for impartiality; strict rules around not accepting hospitality and gifts from sources. The full details of rules around staff conduct can be found in section four of the policy document. 
The Charter
AFP's Charter enshrines the ethical principles that guide all of AFP's work as a multi-lingual, multicultural news agency whose mission is to provide accurate, balanced and impartial coverage of global events.
It sets out the agency's duty to seek and publish the truth and to speak with an independent voice free of political, commercial or ideological influence. These commitments to accuracy and objectivity are central to AFP's founding statute. 
The Charter also lays out AFP's commitment to supporting freedom of expression and the rights of journalists and rejects discrimination based on race, gender, nationality, religion, sexual orientation or any other factor.
Collaboration with fact-checking community to safeguard standards
In addition to establishing its own policies to safeguard editorial and ethical standards, AFP has taken a leading role in the development of the European Fact-Checking Standards Network, which has created a code of standards for independent fact-checking organisations in Europe. 
The European Code of Standards sets out commitments to transparency, non-partisanship and journalistic excellence in efforts to combat disinformation. If you believe AFP has breached the Code, you can inform the EFCSN here.
AFP is also a signatory of the International Fact-Checking Network's code of principles. This involves a commitment to: nonpartisanship and fairness, transparency of sources, transparency of funding and organisation, transparency of methodology and an open and honest corrections policy. If you believe AFP has not respected the code of principles, you can directly inform the IFCN here.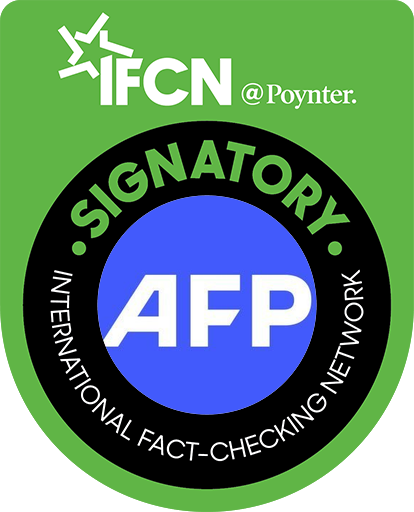 AFP is also a supporting partner of the Journalism Trust Initiative, an international project for promoting trustworthy journalism that is operated by Reporters Without Borders (RSF).