Fact-checking : how we work
As well as traditional journalism skills, we use a number of simple tools for verifying online information, some common sense and a lot of caution. 
We aim to transparently show the steps we take throughout the debunking process.
Starting out with a specific question, we seek to investigate and report dubious stories and claims that may or may not end up on our newswires.
Our editors start by trying to contact the person behind a claim, as well as checking with our own archives and journalists.
We seek non-partisan, publicly available information in our investigations, and link to it online.
Returning to the source
A great deal false information involves old images taken out of context.
We start with a reverse image search, inserting the picture in one or several search engines to see if it has previously appeared online. 
A right click on a picture on the Google Chrome browser gives the option "search Google for image". The search engine will trawl its database to see if there are similar images in its index.
We like the RevEye browser extension which gives a choice of image search engines Google, Bing (Microsoft), Yandex (Russian) , TinEye (By images, not keywords) and Baidu (Chinese). 
Reverse search does not always give results, either because an image has never been published on the internet, or because it has not yet been indexed.
We also observe visual clues (such as shop signs, street signs, architecture, vegetation, license plates) to find the location or date of an image.
As part of an investigation of a video shot in Crete, we found the location via Google Maps, after observing the shape of a beach.

Images or videos alone are never proof of a statement. We also need to check the coherence of an image with information such as the date it was published and details within it, such as weather conditions.
When dealing with suspect images, we try our best to obtain the original files to determine if they have been altered.
Searching for the origin of a statement or quotation:
A simple copy and paste of a paragraph of text in a search engine can often find if it has already circulated online.
Quotes related to politicians are often taken from parody websites. A copy and paste in a search engine can trace back to the source in seconds.
If a comment is attributed to a person, we seek a reliable source (audio or video recording, official transcript), as well as looking at the person's online accounts for further verification. We will also contact the person directly to seek to prove their statement.
We use Whopostedwhat.com to search for posts on Facebook containing a specific keyword or from a particular date.
When dealing with quantitive data, we look for the original study and its methodology.
Investigating videos
We use the INVID Chrome extension, co-developed by AFP, on a daily basis. The tool allows us to cut a video into thumbnails (via the "Keyframes" tab). It then carries out several reverse searches on the same images.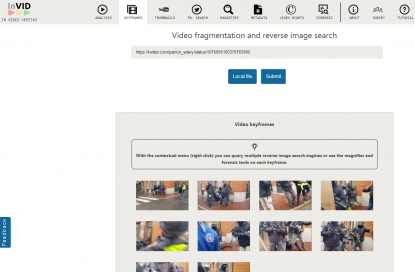 Cross-checking information
If an image or information circulating on the internet appears doubtful - especially if it does not cite a source - one of our first reflexes is to study the comments. Some might provide contradictory information or raise questions about the truth of a post.
If a person or organization is mentionned, we contact them for their version of events.
If a questionable publication is based on a picture or video, we will search for other images from the same event to compare them with. We also seek to contact the author of the image and, where possible, locate and cite them.
Contacting the right sources
We regularly deal with topics on which we have little previous knowledge. In these cases, we collaborate with AFP journalists with expertise in a specific subject, region or language. We work closely with AFP's worldwide fact-checking team.
Not just the internet
For some fact-checks, the internet and telephone are not enough. Sometimes - as in all journalism - you need to be in the field.
In July 2018, we asked an AFP journalist in Kuwait to check a video that had gone viral. Many publications claimed the video showed a Saudi man assaulting a receptionist in a London hospital.
But early online research put us on a different track: the assault allegedly took place in a veterinary clinic in Kuwait City.
Our journalist visited the clinic we had identified on the internet and confirmed it was the same place, as well as obtaining a testimony from the vet attacked in the video. Here is that fact-check.
A senior editor reviews each report before it is published online.
We use archive tools, such as Wayback Machine, to avoid increasing clicks on false information and to keep a record in case a post later changes or vanishes.  
Corrections policy:  If we make a factual error we will correct it and note it on the original item. This will be clearly marked as "CORRECTION" at the bottom of the article, with the date of the modification and an explanation. If the mistake is significant we will take down a story and leave an explanation. Here is a link to all corrections.
For clarifications or updates, we will use the "EDIT" mention at the bottom of a story.