Corporate price hikes are not root cause of soaring US inflation
Facebook posts claim that the rising cost of goods in the United States is due to price gouging rather than inflation. But experts rejected the idea that corporations are the main culprit and said the spike in prices follows big federal spending, heightened demand, and supply problems, all of which have accompanied the pandemic.
"Can we stop calling it inflation and start calling it what it really is? Price gouging and corporate greed," says a January 25, 2022 post on the Occupy Democrats Facebook page that has been shared more than 45,000 times. The post was corrected following the publication of AFP's fact check.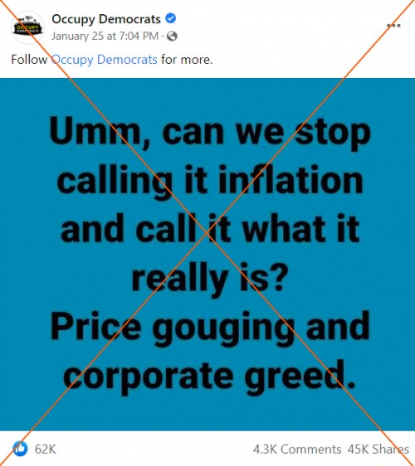 A screenshot of a Facebook post taken on February 10, 2022
Another example of the claim -- which spread online as consumer prices saw their largest annual jump in nearly four decades -- appeared on Facebook here.
The latest government figures show US prices rose 7.5 percent over the 12 months to January. The cost of essential goods such as food, gas, clothes, and housing have all experienced large increases. Wage costs have also risen markedly, with the pandemic partly to blame as workers have been able to demand higher pay for vacancies that employers have been struggling to fill since the economy began to rebound in 2021.
Desmond Lachman, a senior fellow at the American Enterprise Institute think tank, said that blaming current price increases solely on corporations is "very far fetched."
"If they've got the power to push up prices, to gouge, why didn't they do it before the pandemic?" said Lachman, a former deputy director of the International Monetary Fund. "You might find instances where people are taking advantage of the situation to jack up prices, but that's not really what's driving the inflation."
Instead, high prices are more likely the result of big budget federal spending, low Federal Reserve interest rates and overseas supply problems, he said.
Northwestern University economics professor Mark Witte agreed that corporate price hikes are an unlikely culprit for inflation. "Logically, it takes a change to explain a change. You see something happen that hadn't happened before," he said.
He attributed the current inflation to "a run-up of demand" and "a constriction of supply."
People are buying "much more stuff than we did pre-Covid,"  which is putting pressure on the system, he said, noting that it would not make sense to conclude that corporations were not greedy before, as "that is sort of a constant."
The Urban-Brookings Tax Policy Center's Benjamin Page said: "The pandemic shifted a lot of demand from services, like people going out to restaurants and movie theaters, to goods, like buying home office equipment and cars. And that shift represented a big, big increase in demand for certain types of goods."
Like Lachman, Page also mentioned government spending, such as pandemic relief programs, as a cause for inflation.
The theory that firms suddenly became more greedy "doesn't pass the smell test," said Page.
"There are a lot of things that go on in the economy that impact inflation, but I do think that... that argument of corporate greed is pretty much a red herring."
February 14, 2022 This article was updated to reflect a correction to a Facebook post.