This image shows Singapore's Marina Bay Sands resort, not a hotel in Kenya
An image of a modern building comprising three separate tower blocks has been shared dozens of times on Facebook in Kenya and Uganda with a claim that it shows "Tower One hotel" in Kenya's city of Nakuru. But the claim is false; the image shows Singapore's Marina Bay Sands resort.
The post, which has generated more than 1,600 comments since it was published on Facebook on January 30, 2022, has been shared more than 70 times.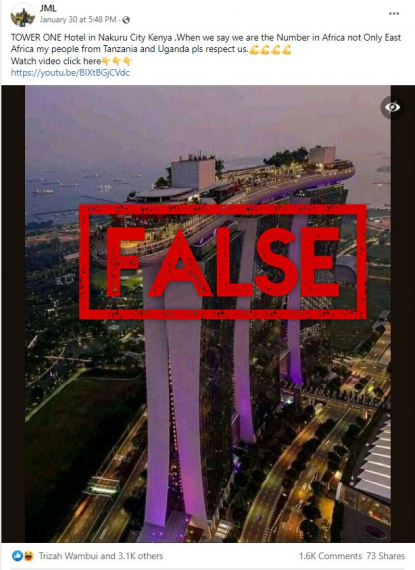 Screenshot of the false post, taken on January 10, 2021
"TOWER ONE Hotel in Nakuru City Kenya, When we say we are the Number one in Africa not Only East Africa my people from Tanzania and Uganda pls respect us (sic)," reads the post, which sparked a range of comments about infrastructure and governance in Africa.
Screenshot showing some of the comments on the post, taken on February 10, 2022
The claim was also shared here, here and here on Facebook in February 2022.
Nakuru, the fourth-largest urban area in Kenya, is located about 140 kilometres (87 miles) northwest of the country's capital Nairobi. It was conferred city status on December 1, 2021, by President Uhuru Kenyatta.
The image, however, does not show a hotel in Nakuru.
 Resort in Singapore
A reverse image search revealed that the building featured in the post is not located anywhere in Kenya.
Rather, the photo is identical to an image found on a travel website called Amazing Destinations with a description of the 55-storey Marina Bay Sands resort in Singapore.
Screenshot of the original image taken from the Amazing Destinations travel website on February 10, 2022
Photos of the same resort taken from different angles can also be found here and here on the hotel's website and in Getty Images photo archives, respectively.
American-based Las Vegas Sands owns Marina Bay Sands, which opened in 2010.
AFP Fact Check was unable to find a hotel by the name of "Tower One" in Kenya, although we confirmed there is an upmarket office block called "Tower 1" on Moi Road in Nakuru.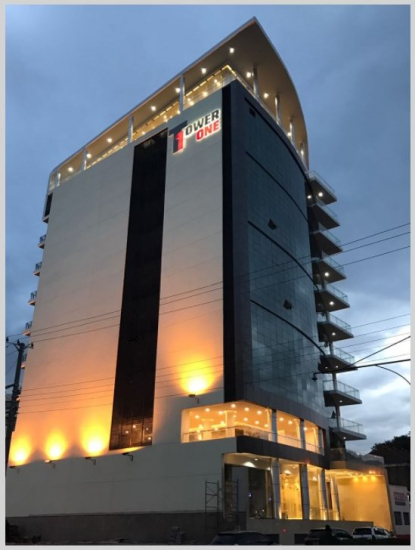 Screenshot showing "Tower 1" building in Nakuru, taken on February 10, 2022
However, it bears no resemblance to the building in the image on Facebook.