False claims about celebrity endorsements for CBD products spread online
Online ads presented as articles claim that two celebrity doctors launched a line of cannabidiol gummies. This is false; a spokesperson for one of the doctors said the claim is inaccurate, and both have previously rejected the idea that they were involved with such a product.
"Dr. Phil & Dr. Oz Release Revolutionary Product, Causing Outburst In The Health Community," says the headline of one such ad that claims the two have launched "Smilz CBD Gummies."
Screenshot of a webpage taken on February 3, 2022
Other similar ads are circulating online, featuring claims including that the CBD line allegedly released by Phil McGraw, known to his fans as Dr Phil, was approved by the US Food and Drug Administration (FDA), and that it can instantly reverse dementia and memory loss.
Screenshot of a webpage taken on February 1, 2022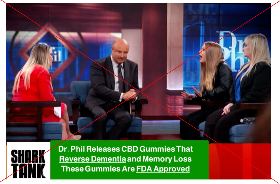 Screenshot of a webpage taken on February 1, 2022
But both TV doctors have addressed the claims before, including in a 2021 episode of Dr Oz and a joint interview with TMZ in which McGraw described the ads as "clickbait" to get people to sign up for "bogus products."
Mehmet Oz added: "Neither of us sells CBD."
"I actually think CBD could be a real benefit to a lot of people who have chronic pain or trouble sleeping... scammers will actually sell you junk," Oz warned, claiming some of these products were tested in labs and contained dangerous levels of lead.
Jerry Sharell, the vice president of communications for CBS's Dr Phil television show, told AFP that the ads remain untrue, adding both doctors have spoken directly against these types of ads on numerous occasions. 
A representative for Oz did not respond to a request for comment by the time of publication.
In 2018, Congress allowed farming of industrial hemp and the marketing of products containing cannabidiol. Some celebrities have indeed launched CBD lines in the US, including television personality Martha Stewart, and former professional boxer Mike Tyson, but sell their products on legitimate and secure platforms. 
The FDA has also "approved only one CBD product, a prescription drug product to treat seizures associated with Lennox Gastaut syndrome (LGS), Dravet syndrome (DS), or tuberous sclerosis complex (TSC) in people one year of age and older," the agency said on February 2. 
On its website, the National Institute on Aging warns against products presented as cures for conditions such as dementia and Alzheimer's disease.
"Because Alzheimer's disease is so devastating, some people are tempted by untried or unproven 'cures.' Check with your doctor before trying pills or any other treatment or supplement that promises to prevent Alzheimer's. These 'treatments' might be unsafe, a waste of money, or both," it says. 
AFP Fact Check previously debunked a similar false claim about CNN chief medical correspondent Sanjay Gupta.