Image has been altered to show Nigerian singing duo in Biafra apparel
An image of Nigerian singing duo Peter and Paul Okoye, better known as P-Square, wearing hoodies with the flag of Biafra has been shared thousands of times on Facebook alongside a call for them to be arrested. But AFP Fact Check found that the image has been altered to promote the secessionist movement. In the original image, the two are not wearing the colours of Biafra.
The image was posted here on Facebook alongside a caption calling for the brothers to be arrested.
"Nigerian government supposed to Lock this guy's up the same way kalu is been locked up… They are distracting the peace of this country by promoting a terrorist organization call Biafra (sic)," the caption reads in part.
A screenshot taken on February 2, 2022, showing the false post
"Kalu" presumably refers to Biafran leader Nnamdi Kanu who is in custody awaiting trial on terrorism charges. 
Rising sun controversy
The Biafra flag, a horizontal tricolour of red, black and green, has existed since the late 1960s, when it was used by the Republic of Biafra in its bid to secede from Nigeria. 
The flag also features a golden yellow semi-circle to represent the rising sun with 11 rays on its edges. This depicts the 11 provinces of Biafra. 
Security forces have arrested celebrities for wearing clothes in support of Biafra. In October 2021, Nigeria's secret police DSS arrested Nollywood actor Chiwetalu Agu for wearing an outfit with the Biafran flag on it. He was released four days after his arrest.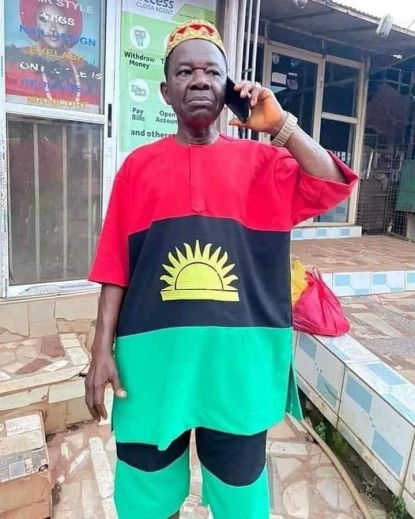 Image of Chiwetalu Agu in Biafra apparel which led to his arrest
Since Agu's arrest, images of other Nigerian celebrities have been altered to show them in Biafran colours, like P-Square. 
P-Square reunion
AFP Fact Check ran multiple reverse image searches and found that the original image of the brothers was posted to social media by P-Square on November 27, 2021. In it, they are wearing plain grey sweaters and jeans.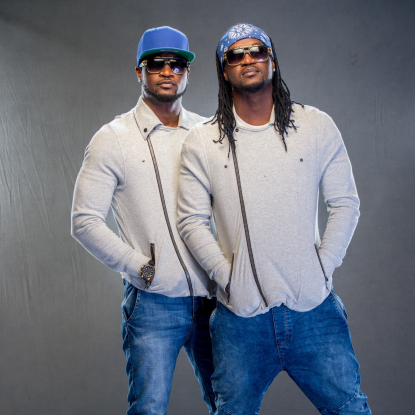 The original image of P-Square was uploaded to social media in November 2021
P-Square was the leading singing group in Nigeria until 2017 when they broke up to pursue solo careers in the music industry. Peter, who took a new stage name as Mr P, blamed his twin, Paul for the break up. 
Paul, on the other hand, took the stage name Rudeboy, and blamed Peter for the demise of the group. 
For four years, they both performed as solo artists until a Nollywood actor announced they were getting back together in November 2021. A few days later, they followed it up with a video on their verified Facebook page, stating they were "back again".
After the video, they uploaded the picture of themselves in grey hoodies and blue jeans. There is no evidence of the brothers publicly expressing support for Biafra.