Old photo from West Bank shared in misleading posts about Kashmir atrocity allegations
A photo of a woman struggling against security guards is circulating in social media posts about allegations that surfaced in January 2022 of atrocities by India's army in Indian-administered Kashmir. The photo has been shared in a misleading context; it shows a Palestinian woman resisting Israeli border police in the West Bank in 2010.
 "How can the Indian Ministry of Foreign affairs be unaware and silent? #ArrestIndianArmyChief," reads a tweet posted on January 20.
The hashtag "#ArrestIndianArmyChief" gained traction after a British law firm filed an arrest application in January 2022 for India's army chief and a senior Indian government official over allegations of atrocities in Indian-administered Kashmir.
Screenshot of the misleading post taken on February 1, 2022.
The same photo was shared in similar tweets here, here and here.
However, the posts are misleading.
A reverse image search found the photo in the archives of Reuters news agency.
"A Palestinian woman scuffles with Israeli border police during clashes at Qalandia checkpoint near the West Bank city of Ramallah March 13, 2010," the photo caption reads.
Below is a screenshot comparison of the photo in misleading posts (left) and the Reuters photo (right).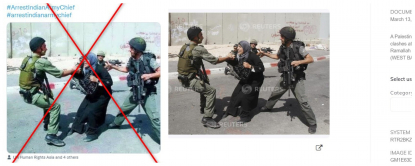 Screenshot comparison of the photo in in misleading posts (L) and the Reuters photo (R)
The photo was also published in news reports from March 2010 by UAE-based Gulf News and Saudi Arabia's Al Riyadh newspaper.
AFP has previously debunked a photo of protesters in Indian-administered Kashmir that falsely circulated as Muslims praying in the Palestinian Territories.
February 2, 2022 This article was updated to correct typos.