Traffic cameras not disabled to hide Canada anti-vaccine mandate convoy
Social media posts claim traffic cameras on an Ontario highway were disabled to hide the passage of a convoy heading to Canada's capital to protest Covid-19 vaccine mandates for truckers. But the city of Windsor and Ontario's Ministry of Transportation both denied the claims, and supporters of the protest could be seen on footage from traffic cameras as the convoy passed through the Greater Toronto Area.
"When they start turning off traffic cameras to avoid showing the convoy. The narrative runs deep my friends," says a January 24, 2021 Facebook post shared more than 1,200 times. The post includes screenshots of malfunctioning live-feed videos from highway traffic cameras in Windsor, Ontario.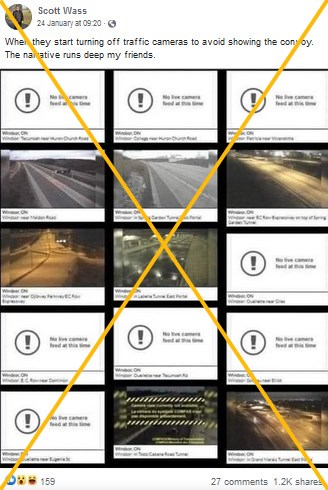 Screenshot taken on January 27, 2022 of a Facebook post
Other posts share the same claim with slightly different images.
Screenshot taken on January 27, 2022, shows a Facebook post
Local media reported on January 23 that hundreds of truckers left the Canadian province of British Columbia, heading eastward to Ottawa in order to protest a Covid-19 vaccine mandate for cross-border truckers that took effect earlier in the month.
The Canadian Trucking Alliance said that "the vast majority of the Canadian trucking industry is vaccinated," but the mandate has raised fears of further disruption of supply chains already strained by the Covid-19 pandemic.
On January 24, 2022, the convoy passed through Windsor, Ontario.
But officials said no traffic cameras were disabled as a result of the protest.
Jason Moore, a spokesman for the city of Windsor, told AFP that "the cameras locally have been shut off for a year now due to a back-end system changeover and we have not gotten them back online yet," adding that it has "nothing to do with the truckers."
A spokesperson for the Ministry of Transportation of Ontario (MTO) said "there have been no reports of mass outages of our cameras."
"It is not uncommon for individual cameras to go out of service for certain periods for various reasons," the spokesperson said, adding that "MTO maintenance contractors have been notified and are working to repair the cameras as soon as possible."
A search for "Windsor" in the digital traveler information service provided by the provincial Ministry of Transportation, 511on.ca, showed that most highway cameras were working on January 27, though some of them displayed a notice that says: "Camera view not available."
Screenshot taken on January 27, 2022, shows a 511on.ca webpage
As the convoy passed through the Greater Toronto Area on January 27, 2022, supporters of the protest could be seen on the side of Highway 401 from a traffic camera, which may be viewed online.
Screenshot taken on January 27, 2022, shows traffic camera footage from Toronto
Other misinformation has circulated online about the vaccine mandate protest on wheels, including a false claim that the truckers had set a Guinness World Record for the longest convoy.