Article falsely ties CNN medical correspondent to CBD gummies
An online article that mimics the layout of CNN's website and includes its logo claims the network's chief medical correspondent Sanjay Gupta launched a line of cannabidiol gummies. This is false; CNN says it did not publish the article, describing the claim as "bogus," and Gupta has previously rejected the idea.
"Big Pharma In Outrage Over Sanjay Gupta's Latest Business Venture - He Fires Back With This!" says the headline of a January 2022 article that features a photo Gupta.
"Sanjay Gupta made headlines after revealing his new CBD line on Live TV last week," the article says. All of the links on the website that published it redirect to the same ad for CBD gummies.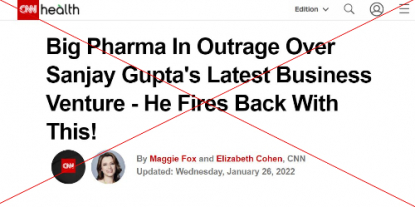 A screenshot of the fake article taken on January 26, 2022
CNN Head of Strategic Communications Matt Dornic told AFP: "The story is fake and no such article was ever published by CNN." 
"The entire thing is bogus," Dornic added. 
In 2018, Congress allowed farming of industrial hemp and the marketing of products containing cannabidiol.
Some celebrities have launched CBD lines in the US, including actress Kristen Bell and former professional boxer Mike Tyson. But not Gupta, as he made clear in a 2018 tweet saying: "No, I have not launched a line of CBD products. I report on medical marijuana. I don't sell it." 
CNN's chief medical correspondent has worked on a documentary series about cannabis for the network, including an investigation into CBD. 
AFP Fact Check has previously debunked other inaccurate claims about the channel and its reporting.