Video of expired Covid vaccines being destroyed in Nigeria recirculates in misleading posts
A video has been shared repeatedly in Korean-language social media posts that claim it shows Nigerian authorities destroying one million doses of a Covid-19 vaccine. Some posts praised Africa's most populous country for being "wiser" than South Korea and other Western countries. But the video has been shared in a misleading context: the footage has circulated in news reports since December 2021 about Nigeria disposing of one million expired AstraZeneca vaccine doses. Nigeria has pledged to inoculate more than half of its population by the end of 2022 -- but its vaccine rollout has so far been slow.
The video was shared here on Facebook on January 14, 2022.
"Nigeria destroys more than one million vaccines. It is a much wiser country than South Korea or the Western countries," reads the Korean-language caption.
Screenshot of the misleading Facebook post. Captured January 19, 2022.
The video shows a truck dumping boxes at a landfill site.
The text superimposed on the footage reads: "Nigeria destroys 1 million vaccines. They are not stupid."
The video was shared alongside a similar claim on Facebook here, here, here and here by users from multiple countries.
The video, however, has been shared in a misleading context.
On December 22, 2021, Nigerian authorities said they incinerated more than a million doses of AstraZeneca Covid-19 vaccines that had passed their expiry dates, AFP reported.
Faisal Shuaib, the head of Nigeria's National Primary Health Care Development Agency, said the destroyed vaccines had been donated by developed countries "at the point that they are about to expire."
At the time, Nigeria had fully vaccinated four million people -- less than three percent of the adult population and well short of the government's target of 112 million people by the end of 2022.
A reverse image search found the video in the misleading posts was included in this report by Bloomberg. It was published on Twitter on December 25, 2021.
The tweet reads: "Nigerian authorities destroyed 1,066,214 expired doses of the AstraZeneca vaccine. The country says it will no longer accept donated Covid vaccines with short shelf lives from Western nations".
Below is a screenshot comparison of the video shared in the misleading post on Facebook (L) and the video published by Bloomberg on Twitter (R):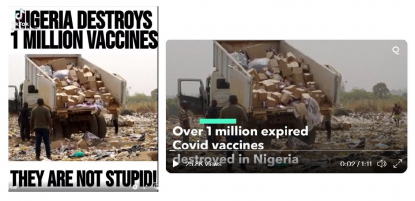 Screenshot comparison of the video shared in the misleading post on Facebook (L) and the video posted by Bloomberg on Twitter (R)
The same video was also used in reports about the expired vaccines by South Korean broadcaster MBN.
AFP also captured multiple photographs of the expired vaccines being dumped at the Gosa landfill site in Abuja, on December 22 -- including here, here and here.
January 25, 2022 ADDS Covid-19 tag, fixes typo in lead