Video shows earthquake in Indonesia's Sulawesi island in 2018, not Java in 2022
A video has been viewed tens of thousands of times in social media posts alongside a claim it shows a 6.6-magnitude earthquake that struck the western part of Indonesia's Java island in January 2022. The claim, however, is false; the video has circulated in social media posts since at least early October 2018, days after a powerful quake hit Indonesia's eastern island of Sulawesi.
The five-minute video was shared here on TikTok on January 15, 2022.
The footage — viewed more than 77,000 times — shows people panicking as a large crack appears on a road.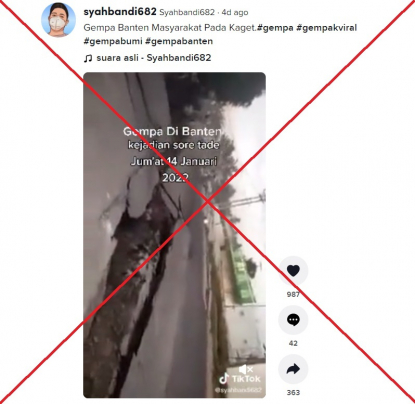 Screenshot of the misleading TikTok post, taken on January 19, 2022
The Indonesian-language text overlaid on the video reads: "Earthquake in Banten happened last afternoon Friday 14 January 2022".
The post's Indonesian-language caption translates to English as "Earthquake in Banten People Are Shocked."
Banten is the westernmost province on Indonesia's Java island.
A 6.6-magnitude earthquake hit southwest of Banten province on January 14, 2022, with tremors felt as far as Jakarta, as reported here by AFP. No tsunami warning was issued and there were no reports of casualties.
The same video has been viewed more than 4,300 times alongside a similar claim on TikTok here and here; as well as on Facebook here and here.
However, the claim is false. 
A reverse image search on Yandex, followed by keyword searches on Google, found this slightly longer video posted on YouTube on October 10, 2018.
The video's Indonesian-language title translates as: "Moment of earthquake in front of sigi palu petrol station 28.09.2018".
Palu is the capital of Indonesia's Central Sulawesi province. Sigi regency is located south of Palu.
A deadly 7.5-magnitude earthquake and a subsequent tsunami hit Palu and the neighbouring areas in Indonesia's Central Sulawesi province on September 28, 2018, AFP reported.
The disaster left more than 4,300 people dead and damaged tens of thousands of buildings.
Below is a screenshot comparison of the video in the misleading post (L) and the 2018 video on YouTube (R), with some corresponding features circled in red by AFP: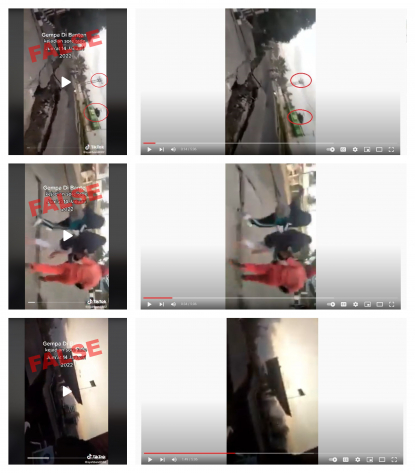 Screenshot comparison of the video in the misleading post (L) and the 2018 video on YouTube (R)
The footage was also posted here and here on October 10, 2018. 
The aftermath of the quake at the Sigi petrol station was also captured in this photo from Tribunnews and amateur videos here and here.